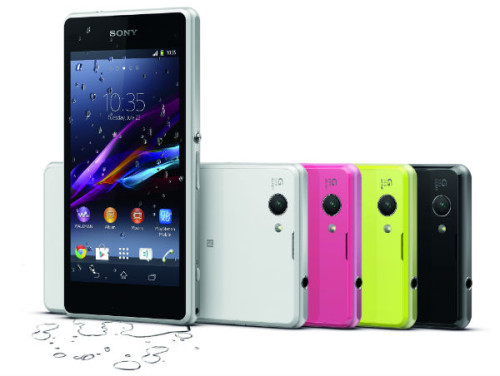 At CES 2014 in Las Vegas, Sony has launched the Xperia Z1 Compact, which it says is filling a gap in the market where users want a smaller smartphone but without compromising on the features of its flagship Xperia Z1 smartphone.
2013 was a return to form for Sony's mobile division as it benefitted from a core position amongst Sony's many consumer electronics divisions following the end of its partnership with Ericsson.
Sony says 2014 will be a transformative year for its smartphone division and the Z1 Compact is the first step.
Just as Samsung has its Galaxy S4 mini, Galaxy S4 and Galaxy Note range of smartphones, Sony now too can compete in the mini, regular and large size smartphones.
With the Xperia Z1 and huge Xperia Ultra launched last year the Z1 Compact promises to offer a choice to those looking for a smaller phone.
Colourful
However the phone is also clearly looking to attract the growing number of consumers out there looking for something different to the traditional black or white smartphones, offering the Z1 Compact in both lime and pink, as well as the more typical monochrome colours.
In terms of hardware the phone has a 4.3in screen with a resolution of 1280 x 720 pixels and uses Sony's own Triluminous and X-Reality technologies borrowed from its television division.
The phone features the powerful Snapdragon 800 chip, 2GB of RAM and 16GB of internal storage.
One of the big selling points on Sony's Xperia smartphones is the camera, which has been enhanced with technology from Sony's camera division.
Sony is promising the same photographic quality in it mini model as its Z1 flagship phone, with the Z1 compact featuring a specially built version of the 20.7 megapixel sensor and a bright F2.0 lens.
OmniBalance design
In terms of design, the phone follows Sony's OmniBalance design language with a fully-flat design, using premium metal and glass materials. The phone's chassis is made from a single piece of aluminium, and, like the Z1 and Ultra, has all ports covered (except for the headphone jack) making the phone water and dust proof - something Sony obviously sees as a big selling point, though its unclear if it matters that much for consumers.
The phone will run Google's Android operating system, but rather than using the latest version (4.4) it will be running Android 4.3 (Jelly Bean). Sony has added its own proprietary skin on top of this adding pre-loaded apps for its own music and movie services along with a PlayStation app which will let owners of the new PlayStation 4 use the phone as a second screen.
The phone will be launched in the Uk and while Sony wouldn't commit to a specific price, a spokesperson said it would be in line with smartphones from other manufacturers in the same market segment.