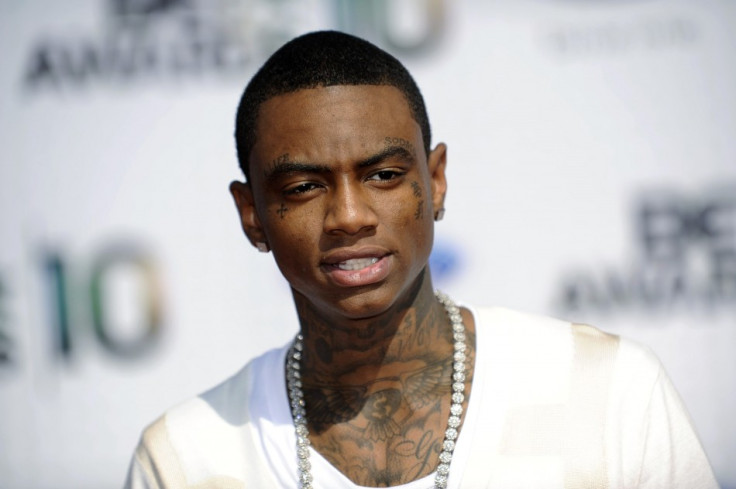 Soulja Boy and Chris Brown's fight on social media got uglier as Rihanna was dragged into their heated argument on 3 January. The war-of-words which kicked off over model Karrueche Tran saw the Crank That rapper claiming that he had slept with Brown's former girlfriend Rihanna behind his back.
The 26-year-old made the revelation about the alleged hook-up in a now-deleted video posted on Instagram. This follows news that Brown had allegedly threatened him for flooding a photo of Karrueche with heart emojis.
In the video (below) The Pretty Boy Swag singer said, "I was with Rihanna, me and her, in the hotel room," according to HollywoodLife. "What happened? Me and Rihanna was in the hotel room, Chris called my phone, asking if I was with Rihanna."
"Nobody would have known... if it wasn't for you," he said. "You're an idiot. You exposed yourself. Now everybody knows I had both of your b*****s."
Soulja also claimed that he had an affair with RiRi "four or five years ago... it was a long time ago".
He added that people did not know about his affair with RiRi because he had kept it a secret. "I don't talk on my d**k. 'Oh, I f****d her. I f****d her.' I kept it on the low, bro, for like six-seven years. Now, you just blew up her spot."
Meanwhile, Tran did not seem happy with Chris and Soulja Boy because of their social media feud. While the exchange of words continued, Tran said, "This drama...is so ridiculous, it makes no sense. This isn't cool or funny... it's training. Not just for me, but for everyone."