Rihanna is 'sick' over Drake and Jennifer Lopez's cosy Instagram post
Drake is rumored to be dating the American Idol judge.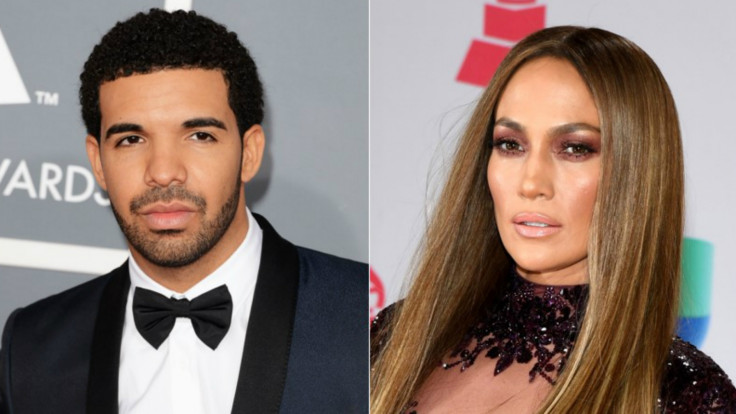 Actress Jennifer Lopez shared an image on Instagram on 27 December of her cuddling with rapper Drake, and Diamonds singer Rihanna is reportedly "sick" after seeing the picture.
A source told Hollywood Life, "That picture of them together, all hugged up, made Rihanna sick. To the point where she wanted to throw her phone down three flights of stairs." Rihanna and Drake have dated on and off for several years. He even publicly announced his affection and kissed her while presenting her with an award at the 2016 MTV Video Music Awards in late August, 2016.
The report also alleged that the 28-year-old singer is relieved knowing that Drake has moved on. The source said: "Rih is just glad it's not her falling for this BS. Better J.Lo than her. The only thing Drake's ever been good at is talking a good game and never following through."
A separate Hollywood Life report alleged that the One Dance rapper told his mother that he thinks Jennifer could be "the one" and that he might be ready to settle down with the American Idol judge.
A source told the website, "She must have put her spell on Drake because, like the mommas boy he his, he told Sandy he feels she could be the one."
"Drake said he gets gitty and has this warm feeling in his stomach every time he's with her. He told mom he's never smiled as much in his life as he does when he's with Jennifer," the source said.
The source reported that his mother, Sandy, has given the Ain't Your Mama hitmaker her stamp of approval. "The best part – he told his mother he respects her so much and wants more than just a sexual relationship with her. Drake ain't never said nothing like this about any woman and his mom has certainly given J.Lo her stamp of approval."
© Copyright IBTimes 2023. All rights reserved.