South Africa: Fees Must Fall protests prove post-Apartheid 'born free generation' is a myth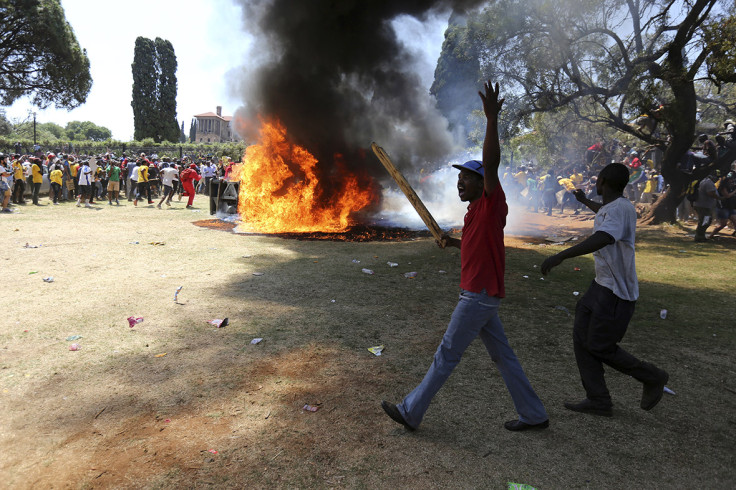 The student protests that raged across South Africa in October have been compared to the 1976 Soweto uprising which was sparked by the apartheid government mandating Afrikaans as the language of study for core subjects in universities. Those estimated 20,000 students - many of which were killed on the streets on 16 June - were fighting an incredibly oppressive and violent regime and risked their lives to study in English, a language that they could learn to understand.
In 2015, students are legally allowed to protest and give their opinion, and thousands did so. When put this way, it is easy to see the stark difference in privilege.
But if students nationwide are still protesting against exorbitant fees so many years later, as well as the unfair treatment of university workers and those who cannot afford to live on campus nor move closer to universities, is it fair to call it a privilege?
The BBC and other international media have talked about South Africa's so-called 'born-free' generation as those who were born since the first democratic elections in the country in 1994 and who "have grown up without apartheid and the struggles of South Africa's older generation". If these protests have done one thing, it is prove that this narrative is crudely false.
Equality on paper but not in practice
After 1994, South Africa's ANC-led government did not embark on major decolonisation and equality projects, save for name changes to a few universities and streets, and the constitutional enshrinement of ideas considered progressive, such as the right to homosexual marriage and equality for women.
There was no major school syllabus change, capital is still mostly structured on old terms, and wealth remains with a mostly white, elite group of people. Black wealth, much of it as a result of black economic empowerment and therefore confined to a new elite, continues to be scrutinised by SA's traditional media as ill-gotten gains before shown otherwise, while white wealth stays listed on the Johannesburg Stock Exchange and largely under-reported on.
Redistribution of land is high on the agenda of parliament due to former ANC member Julius Malema's political party, the Economic Freedom Fighters, pushing for discussions on it. The ANC-led government promised that 30% of land would be redistributed by 2014, while only 7% has been bought back by the government so far. African people benefit the least from black economic empowerment efforts in the labour market.
The decolonisation of education
The demonstrations by students these past weeks were not the first of their kind. Tertiary institutions where the vast majority of students are black have been protesting over high fees for years - particularly poorer ones such as the Tshwane University of Technology (TUT) with a campus in Soshanguve, a black township about 45km outside the capital Pretoria, and the University of Fort Hare in the Eastern Cape.
TUT protest every year, without much media attention or government follow up. So even in the citizens' support of student protests, inequality in South Africa brought itself to the fore, showing that only middle class people (including white sympathisers) deserved acknowledgement and respect when they were negatively affected. And black students did not hide this feeling.
On 23 October, when students from all campuses of different universities marched on Union Buildings in Pretoria to be addressed by President Jacob Zuma, a few students from TUT threw bricks at police (who were in riot gear), and burned bins and tyres. These incidents of violence are not isolated: they are clear indications of the level of anger felt by students who are ignored, while South Africa's mainstream media and government took notice of the needs of students at historically white universities.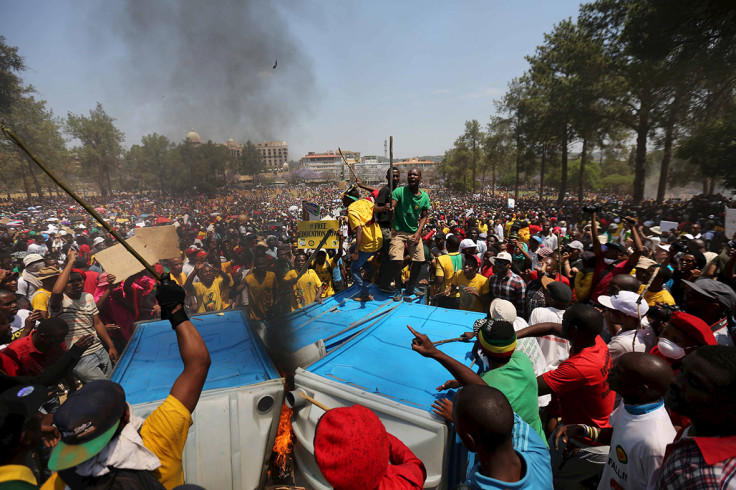 Demands by different institutions were not the same. Some included the need to not implement a fee increase in 2016 on tuition and registration, and included a call to stop the outsourcing of workers on university campuses. This is to hold universities accountable for the way staff are treated.
The protests against fee increases were started by poorer black people who could not afford the charges required to study. But ideas related to further decolonisation to curricula and workers' policy were fired up by the radical Rhodes Must Fall movement at the University of Cape Town, which began the dialogue of decolonisation at tertiary institutions by demanding the removal of a statue of Cecil John Rhodes that cast a reminding shadow over the campus grounds.
Their eventual success in getting the statue removed empowered young people nationwide to call for further decolonisation efforts and assessment of the levels of inequality experienced by South Africa's citizenry. The Black Students Movement at the currently named Rhodes University has had numerous meetings and demonstrations about curriculum changes, and they continue to push for these.
Born free? Not in South Africa
The concept of a 'born-free' - that someone is born without any attachments to old legalised racism and inequality, does not exist in South Africa. The changes needed to reform wealth and learning are tangible and require the sustained efforts of successive generations.
Students will no longer accept paying back loans for 20 years after they have started working. They cannot afford to work and study simultaneously as the poorer you are, the further away you live and work from centres of learning, as determined by apartheid, which persists today.
There are students who are up at 3am to get to campus on time, and get home at 9pm because they cannot afford rent at residences, plus groceries. South Africa's poor are overwhelmingly black.
Ideas of inequality are not set in stone in South Africa. The movement of working class black people to middle class spaces continues to grow, but at a slow rate. So while inequality has a clear class chasm, there is no doubt that class is racial, due to decades of racism and intentional subjugation of black people.
It was demonstrated clearly when police were brought in at the University of Cape Town, one of the more affluent tertiary institutions. The Rhodes Must Fall movement asked white allies at the university to step forward and protect black students from arrest and attack by forming a human shield around them. They did so and police did not fire rubber bullets on those students.
It was striking proof of the how black people are still treated in this country versus white people, and at the same time demonstrated that some white alleged born-frees understand these inequalities and the need for decolonisation and equality better than their parents ever will.
---
Deshnee Subramany works at South Africa's M&G Centre for Investigative Journalism, amaBhungane. Follow her on Twitter.
© Copyright IBTimes 2023. All rights reserved.