Fees Must Fall protest as it happened: South African students violently clash with police
UPDATE 2.30pm
South African President Jacob Zuma has announced that tuition fees will not be increased for 2016.
UPDATE 1pm
Some 500 people are taking part in a protest in central London in support of the Fees Must Fall rallies in South Africa. Police are believed to have arrested one man for entering the South African High Commission building in Trafalgar Square. The South African commissioner agreed to address the protesters.
UPDATE 12:40 pm
Protesters break a barrier separating them from police and keep hurling rocks. Police have deployed barbed wire.
UPDATE 12:30 pm
Students throw rocks at police, who retaliate with stun grenades to disperse protesters. Watch the eNCA Live stream of protest here:
UPDATE: 12:25 pm
Some Twitter users say most students are against violence occurring outside the Union Buildings. Meanwhile, police keep firing stun grenades.

UPDATE: 12:10 pm
Some protesters are burning tyres and public toilets outside the building. Others are hurling objects at a stage where Zuma is expected to address the protesters. Police are firing flash bangs.
Original article
Protests outside the Union Buildings in the South African capital of Pretoria have turned violent. Students lit a fire outside the fences and hurled objects at police and journalists who are reporting on the rallies against proposed tuition fee hikes.
South African President Jacob Zuma is meeting student leaders and professors to discuss the issue while protesters said the president has one hour to respond to them. Some demonstrators are chanting "Zuma must go".
Students are trying to break the fences of the Union Buildings while riot police are believed to have created a human barricade near the fences and opened water cannons to disperse protesters.
Demonstrations began earlier in October after the government said it intended to increase fees by between 10% and 12%. Thousands of students took to the streets calling for free education and arguing that increased fees would prevent poor black youths from accessing education. Hundreds of people have also taken to social media to voice their dissent under the hashtags #FeesMustFall and#NationalShutDown.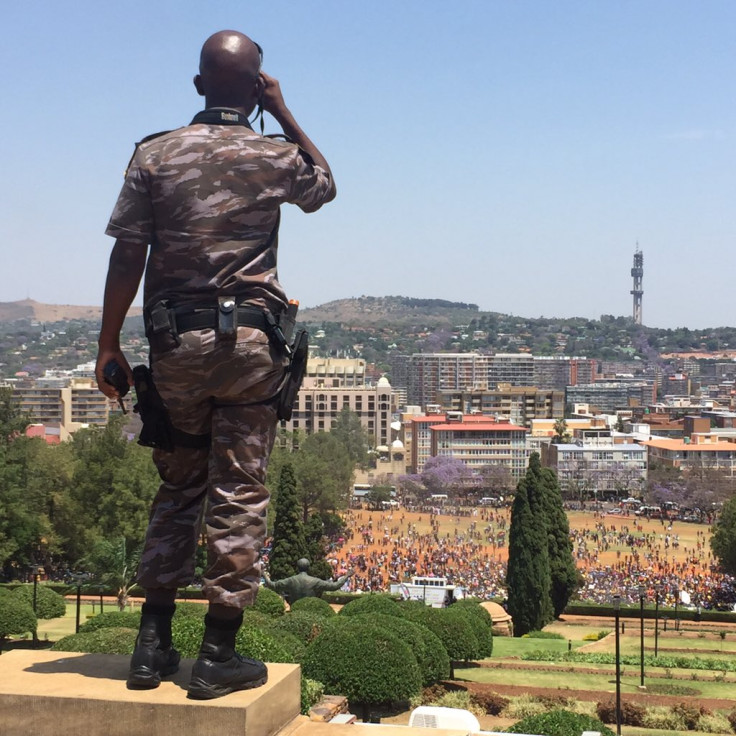 © Copyright IBTimes 2023. All rights reserved.