An American base jumper, who sustained severe injuries after he crashed on Table Mountain after attempting the stunt, will be fined for the illegal jump, according to a report in the Cape Times on Tuesday.
The internationally-renowned jumper Jeb Corliss is in intensive care in a Cape Town hospital.
The 35-year-old has completed more than 1,000 successful base jumps around the world, including jumps from the Eiffel Tower in France, the Golden Gate Bridge in the US, and the Petronas Towers in Malaysia.
Table Mountain National Park spokeswoman Merle Collins said Corliss did not have permission to attempt the jump on Monday.
"The danger associated with base jumping does not allow us to issue permits," she told the Cape Times.
"He did not have permission. We will definitely fine him and possibly press charges," she said.
Collins said base jumping could impact negatively on mountain safety.
She had already received calls from would-be jumpers requesting permits.
She said a man had phoned her asking how Corliss had got a permit.
"He said he had applied for one and was denied, so he couldn't understand why Corliss was allowed to jump," Collins said.
"He was absolutely not allowed to jump. It is worrying to me because people may think they can do this now without permits.
"He is very, very lucky to have his life."
Corliss has been jumping with fellow American Joby Ogwyn, who became the youngest person to climb Mount Everest at the age of 24.
While attempting the jump, Corliss clipped a rock and tumbled 60m into Contour Path.
"I feel better than I've ever felt," Corliss said from his hospital bed in the intensive care unit at Christiaan Barnard Memorial Hospital.
Ogwyn, who waited for Corliss at the base of the mountain after the fall, said he was not sure what had caused the accident.
"It could have been a strange gust of wind. It could have been that he got too close to the mountain," he said.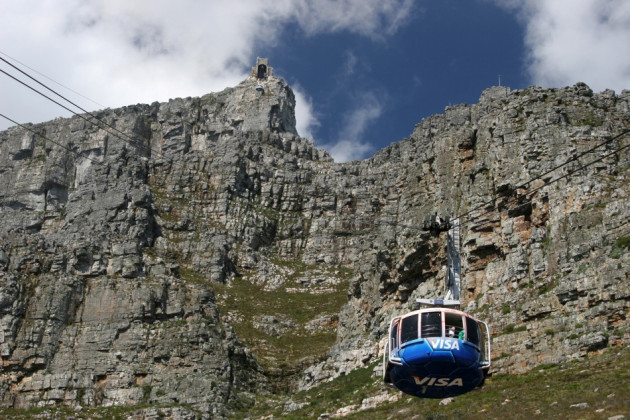 Base jumping is an extreme sport activity where jumpers launch from a tall structure and freefall. Generally, base jumpers don't open their parachutes until just before landing.
Base jumpers wear a parachute and often a wingsuit but don't open their parachutes until they reach an altitude where it's critical to land safely.
Base is an acronym for the fixed objects or surfaces from which jumpers launch: building, antenna, span (bridge) and earth.
To watch the video of the two men attempting the base jump from Table Mountain, click on the clip below: