At least 18 people have been killed by South African police who opened fire on striking platinum miners.
Officers opened fire on the crowd of thousands of protesters, after calling on them to surrender their weapons and leave their camp.
Although some miners and their families did leave, others are understood to have begun chanting and marching towards the township by the Lonmin PLC mine.
Thousands of police, many wearing riot gear and with helicopter support, were in the process of laying down barbed wire barricades and believed they were being outflanked.
Officers tried to turn the crowd away with a water cannon and stun grenades, according to Molaole Montsho, a journalist with the South African Press Association, who was at the scene.
Private television broadcaster e.tv showed dozens of rounds being fired by officers, who were armed with automatic rifles, shotguns and pistols.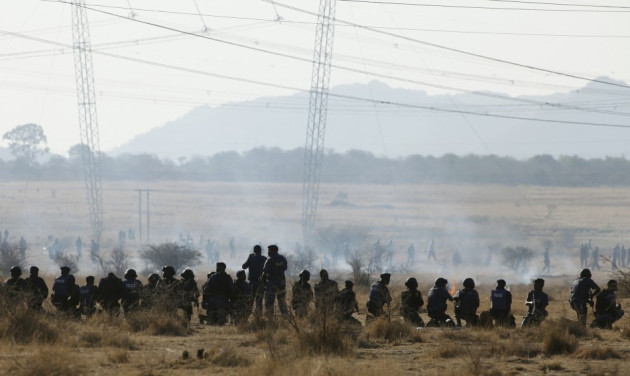 Violent conclusion
The shooting brought several days of violence surrounding the protests to a climax. Nine people had already been killed in other clashes in the mining town, northest of Johannesburg.
Barnard Mokwena, an executive vice-president at Lonmin mining company, told Associated Press that "it's a police operation". Police captain Dennis Adriano declined to comment.
Lomnim, the world's third largest platinum producer, had earlier warned striking miners that they would lose their jobs if they did not return to work.
"The striking workers remain armed and away from work - this is illegal," the company said.
The company announced that the disruption caused by the strikes meant it was unlikely to meet production targets for the year. The protests, which saw 3,000 workers down tools, started on 10 August.
A pair of security guards were killed by a mob, with two other workers and two police officers being overcome by the crowds. Police fought back, shooting three others.
Investors have pulled away from Lonmin. Its stock dropped 6.91 percent, bringing its total losses since the start of the protest to 13 percent.