A South African minister has denied allegations of involvement in rhino poaching in Africa. State Security Minister David Mahlobo was linked to rhino horn trade by an Al Jazeera documentary aired on Sunday (13 November 2016).
Mahlobo was alleged to have close connections with a suspected rhino horn trafficker, Guan Jing Guang, who has claimed he knows the minister "very well".
"The investigation raises serious questions about the involvement of a South African government minister and members of a Chinese presidential delegation in the illegal rhino horn trade," said Al Jazeera.
Mahlobo denied any relationship with Guang. He admitted to visiting the local Mbombela Spa, owned by Guang, but said he had "no idea as to what Mr Guang was involved in".
"Minister Mahlobo is not a friend of Mr Guang and has never visited him at his residence," read a statement on the state security website. "The photo that appeared on Al Jazeera and in the Sunday papers is a photo taken when the minister was being treated at a manicure table and Guang requested a photo to be taken."
After the documentary was broadcast , Mahlobo requested that the Mpumalanga Police Commissioner to immediately investigate all allegations and take action against Guang for illegal rhino poaching activity.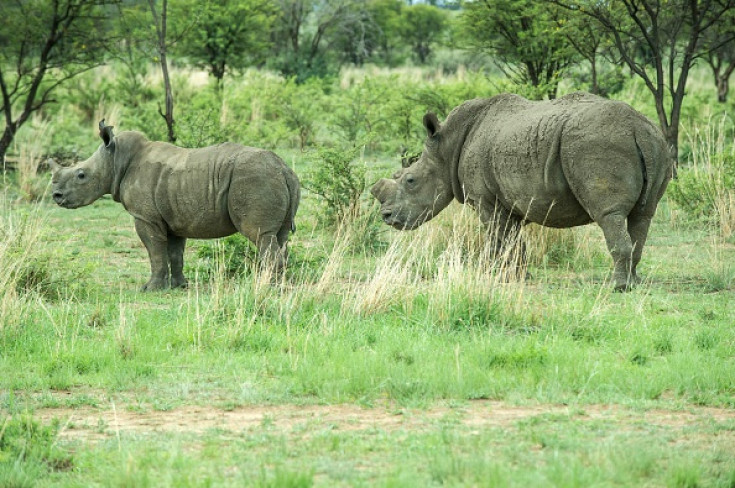 Rhino poaching in South Africa
South Africa has the largest population of rhinos in Africa. Although the rhino horn trade is illegal, poaching is still widespread in the country due to high demand for the product from Asia. Vietnam and China are some of the biggest buyers of rhino horn.
In 2012, Vietnam and South Africa signed a deal aimed at cracking down on the illegal trading of horns. The deal came as Traffic, a wildlife trade-monitoring group, identified Vietnam as the main destination for illegal rhino horn.
However, it is believed that at least 1,175 rhinos were poached in South Africa in 2015, a slight decrease from the record number of 1,215 in 2014. Earlier this year, two poachers killed two rhinos for their horns and left another fighting for its life at the Sibuya Game Reserve.
In September 2015, an anti-poaching chief in South Africa's Kruger National Park claimed the war against rhino poaching was still far from being won.