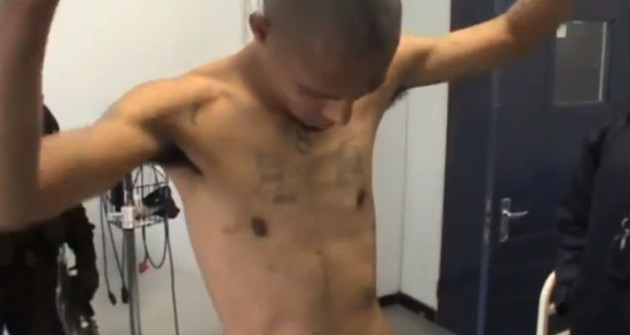 The South African government has launched an investigation into alleged torture and abuse of inmates at a prison run by British private security firm G4S.
Correctional services minister Sibusiso Ndebele said authorities would investigate media claims that staff at the Mangaung Correctional Centre near Bloemfontein used forced injections and electric shock treatment to subdue inmates.
G4S has denied the allegations.
"We will leave no stone unturned to ensure that those implicated in such inhumane acts face the consequences of their actions," Ndebele said.
The Wits Justice Project (WJP), part of the journalism department of the University of Witwatersrand, said it had collected accounts of at least 30 beatings or other abuse claimed by prisoners at the high-security prison.
The WJP report was based on the accounts of at least 35 sources, including prisoners, former security guards and health officials, as well as on video footage shot inside the prison walls gathered over a year.
Personnel at the prison hospital said inmates were forcibly administered anti-psychotic drugs. Side-effects included memory loss, muscle spasm and strokes.
Video footage leaked to the BBC showed prisoner Bheki Dlamini being forcibly injected.
"I am not a donkey, I am not an animal," Dlamini is heard protesting in the video as he is grabbed by five security guards who twist his arms behind his back and drag him into a room before a nurse is called.
A staff member at the prison said Dlamini's medical record did not indicate that he was psychotic or schizophrenic.
Dlamini's lawyer Egon Oswald said his client was injected with an antipsychotic drug called Etomine after he complained about prison meals.
"Dlamini had complained to a warder that he did not like the sausages they served him; he demanded that the warder should bring him 'real meat'," Oswald said.
"They got into an argument and the warder told him the emergency security team would deal with him."
Electrified shields
Other sources said electroshocks were used to torture prisoners as a form of punishment. The click of electrified shields and a man screaming can be heard in an audio file recorded at the prison in August.
Earlier this month, the government took over control of the prison from G4S in the wake of a series of violent incidents.
"It was established that G4S management had lost effective control," the Correctional Services Ministry said.
G4S denied any wrongdoing and pointed out that medical treatment of prisoners was managed by a third company.
"G4S has a zero-tolerance policy for the use of undue or excessive force at Mangaung Correctional Centre," G4S said.
"The health and treatment of inmates are managed by a reputable third-party medical centre. G4S staff members do not have access to, nor do they administer, any medication."
"In the 12 years that G4S has managed Mangaung Correctional Centre, we have maintained control and taken comprehensive measures to ensure the safety of our staff and the inmates," added Andy Baker, regional president for G4S Africa.
"It is unfortunate that the media is pursuing a story based on unsubstantiated allegations from anonymous sources, disgruntled former employees and convicted criminals."