My South African Adventure: Forgetting Britain in the Big Freeze [BLOG]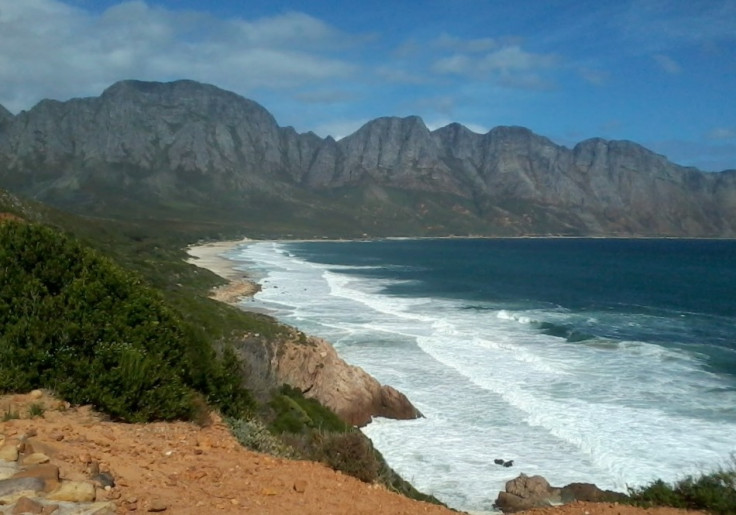 There's nothing quite like a nice trip to the seaside. Or, more to the point, bay-hopping along the beautiful Cape coastline when it's sunny.
On offer you have everything from the chic, arty shopping mecca of Kalk Bay on the False Bay seaboard to Gordon's Bay, a tasteful, small town and harbour further up the coast, which also boasts Bikini Beach, a pretty spot with white sand where young lovelies from the universities of Cape Town and Stellenbosch are known to strut their stuff.
And then there's Gansbaai (or Goose Bay), which is less of a tourist haunt and more of a hard-working Afrikaaner fishing community, just south of the charming and somewhat more upmarket Hermanus on the Whale Coast.
So, what with last Thursday being Human Rights Day and all - a legacy of apartheid that everyone's happy with - nearly the whole of South Africa appeared to take the Friday off too in order to enjoy an extra long holiday weekend.
And why not when the sun's still shining but dire warnings of apparently endless winter rain are raging in your ears?
So off we went on our grand tour of the bays, with Kalk (or chalk in Afrikaans) Bay, which just manages to be a suburb of Cape Town by the skin of its teeth, being first on the list.
On reflection though, choosing a public holiday to wend our way along a pretty, single-carriageway coast road, despoiled by lots of road works that left nowhere to go unless you ploughed up a mountain or into the sea, possibly wasn't the best idea ever.
So much so that, in the end, we gave up, decided to park the car in the nearby suburb of St James with its brightly coloured Victorian-style bathing huts, and just walk the 1km or so to our final destination.
Perlemoen
The bit of exercise was worth it though - lunch in the imaginatively named Waters Edge restaurant at the Brass Bell offered up the most amazing ocean views as well as a pleasantly, rather than oppressively spicy, seafood Cape Malay curry - well worth a go if you get the chance.
A post-prandial stroll, meanwhile, revealed a positive cornucopia of retail joys - an intriguing old book store full of ancient, crumbling works on dentistry and all matters medical; minimalist antique shops with not one of the usual piles of tat in sight, as well as arty cafes and hippie shops stocked full of bohemian paraphanelia.
We even found a garden shop that sold us a purple chilli plant (Black Pearl). Decidedly unusual, but very pretty. It's in our garden right now, in full sun as recommended.
Anyway, next on the grand tour of the bays was Gansbaai, where we spent a couple of days with our friends from the Northern Suburbs who have a lovely seaside-themed beach house down there.
Although nearby Hermanus may have grabbed itself the tourist accolade for being the best place to see southern right whales - from about July until October when the females find themselves a nice bay to birth and nurse their calves in - Gansbaai shouldn't be ruled out as a great spot to indulge in a bit of cetacean-spotting too.
And it also goes down in history as the only place that I've ever eaten, or am likely to eat, abalone - or perlemoen as it's known locally. Abalone, in case you aren't sure, is an edible giant sea snail much prized in Asia, and the inside of its shell comprises the much sought-after mother-of-pearl.
While the sea snail is native to South African shores, it's now endangered due to overfishing. So it's no longer commercially harvested and isn't for sale in the country itself in a bid to cut down on apparently rampant illegal poaching.
Unusual food
As a result, it's only available in a few exclusive restaurants at premium prices - unless you happen to know someone who works at one of the various abalone farms in the area, that is, who are allowed to take a bit home now and then for their own personal use. And happily, the cousin of one of our friends does just that.
So in traditional South African style, we sampled it minced up and cooked with cream and garlic. Much to my shame though, I can't say that I liked it much after all that - if you're into oysters, it might be your thing, but to my uneducated palette, it just tasted like any other grey, salty, jelly-like mollusc. Not really my thing at all.
Still, they really love it in places like Hong Kong, China and Japan, which constitute the country's top abalone export markets, making South Africa the biggest producer of sea snails outside Asia these days. Quite an accolade, and the farms are an important employer in the Western Cape as a result.
Anyway, I know I keep banging on about food, but I must tell you about a wonderfully named dish that we found at The Tavern in the Old Harbour at Gordon's Bay.
Just let me ask you this, would you know what a monkey-gland burger was if it was presented to you? Something similar to a haggis, made up of one of the secreting organs of our closest relatives maybe? Or minced-up, roasted baboon, topped with a couple of tonsils perhaps?
But no, sadly, it was nothing quite so exotic. It turns out that a monkey-gland burger is nothing more than a regular old beef burger, with a helping of tomato chutney on top to liven it up.
Just as well we had those stunning views over the bay to console us in our disappointment.
READ:
My South African Adventure: Keep 'Em Safe Drug Abuse Campaign [BLOG]
My South African Adventure: Grape Expectations in Land of Wine [BLOG]
My South African Adventure: Over-the-Top Security is Safe as Houses [BLOG]
My South African Adventure: Kraal Gallery, 102faces.com and 2people1life.com Seize the Day [BLOG]
My South African Adventure: Oscar Pistorius is the Talk of the Braai [BLOG]
My South African Adventure: Technology-Starved Amish Lifestyle is not for Me [BLOG]
My South Africa Adventure: Expat Briton Catherine Everett's First Taste of Mediterranean Manana Vibe [BLOG]
Cath Everett is a resting journalist who has written about business, technology and HR issues for over 20 years. She recently moved from the UK to South Africa with her husband.
© Copyright IBTimes 2023. All rights reserved.