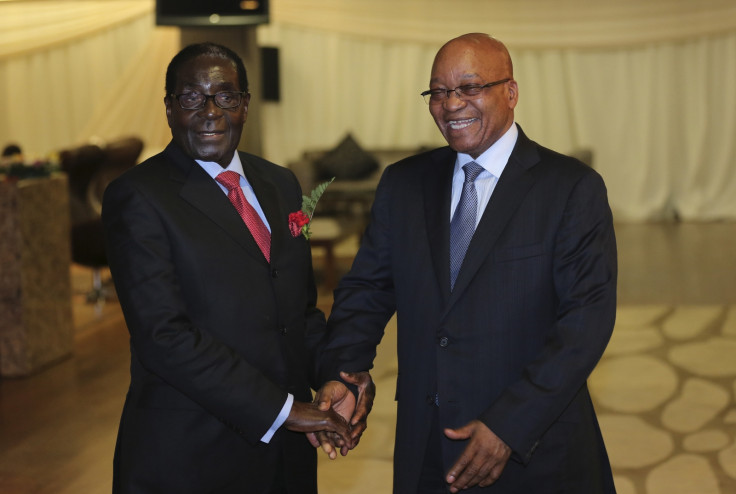 South African President Jacob Zuma has arrived in Zimbabwe today (3 November) morning after he delayed his departure on Wednesday in the wake of former Public Protector Thuli Madonsela's "state capture" report investigating Zuma.
Zuma's visit comes as he faces called from opposition parties for him to step down following growing discontent and allegations of corruption. In her report, Madonsela revealed evidence of possible corruption at the top level of Zuma's government, and the president has been accused of an inappropriate relationship with wealthy businessmen.
Having arrived in Harare this morning, Zuma will be co-chairing the Zimbabwe-South Africa Bi-National Commission – an annual cabinet-level meeting during which the heads of state hope to strengthen bilateral political, economic and social relations.
Zuma's visit is set to push relations between Zimbabwe and South Africa to a "higher level", according to New Zimbabwe, but it has now emerged that Zimbabwe's President Robert Mugabe's government is desperately seeking investment from its South African counterpart.
The neighbouring countries have had cordial relations since the end of the apartheid in South Africa, and strengthened bonds last year after signing five agreements.
Mugabe desperate for foreign investment
The news comes as Mugabe has come under pressure over how his government has handled the economy as the nation faces its worst financial crisis in seven years compounded by acute cash shortages and soaring basic food prices. His government is seen to be desperate to find ways to alleviate the economic crisis in the country, which imports not less than 75% of all its industrial, manufacturing, agricultural and food requirements.
Zimbabwe's foreign affairs minister Simbarashe Mumbengegwi is reported to have pleaded with South African entrepreneurs to start partnerships with locals to save the country's manufacturing industries, News Day reported on 3 November.
"It is self-evident that de-industrialising Zimbabwe is not an attractive and viable partner for South Africa or indeed for any other country. A de-industrialising Zimbabwe also eliminates the country from fully partaking in and contributing to the Southern African Development Community (SADC) industrialisation strategy and roadmap," Mumbengegwi was quoted as saying.
Gripped by drought and possibly on the verge of total economic collapse, Zimbabwe was last month awarded a $91.2m (£74.5m) package by the International Monetary Fund (IMF) which had been held for seven years pending the settlement of arrears to the financial institution. Commentators have said that repaying debt alone may not be sufficient for the region's big three multilateral lenders to bring Zimbabwe back into the international financial fold.
There are currently over 120 South African companies officially doing business in Zimbabwe.