Dozens of anti-China protesters in Vietnam have marked the anniversary of the Battle of the Paracel Islands amid growing tension between the countries.
The demonstration on 19 January in Hanoi was to mark the 42nd anniversary of the conflict in which China took control of a cluster of around 40 islets, outcrops and reefs in the South China Sea. 74 South Vietnamese soldiers died in the conflict in 1974, and incidents have reoccurred in the area since then.
Protester Nguyen Van Phuong said, "We ought to (keep having) this ceremony to pay tribute to the sons who fell for our motherland, that is something we have to do. Secondly, this serves as a wake up call to society because this event has only been happening for the past few years. Before this, the ruling government did not give out information so not many people knew about the Paracel war and the 74 soldiers killed during that war".
On 3 January, Vietnam accused China of violating a recent pact by landing planes on an airstrip built in a contested part of the South China Sea. Beijing has also been accused of opening fire on fishing boats in that part of the ocean, but have defended their actions as a legitimate means of protecting sovereignty.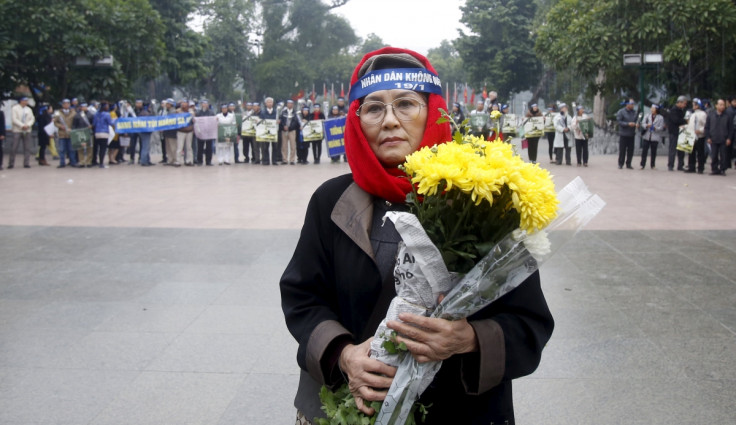 The protesters in Hanoi held signs and posters reading "the people will never forget" and chanted "down with invasive China" and "Spratly and Paracels belong to Vietnam". Well known propaganda movie actress Nguyen Thi Kim Chi was one of the protesters involved in the rally.
She said: "We are doing this to remind people to always remember to protect our ocean, our islands and our motherland because we have this so-called 'friend' that has savage aggression plans to invade us and rob us of seas, our skies and our motherland".
China claims almost all the South China Sea, which is believed to have huge deposits of oil and gas, and through which about $5tn in ship-borne trade passes every year.