A small technology company in China has banned their employees from buying the new iPhone 7, due to be released later this year. Bina Technology, based in Zhejiang Province, made the decision in protest against the US's involvement in the South China Sea ruling on 12 July 2016.
The landmark ruling saw The Hague state that China has "no legal basis" for claiming historical rights to the South China Sea and that it had violated Philippine's sovereign rights. China has reacted negatively to the decision, referring to them as a "law-abusing tribunal" and promising to boycott their decision.
Many Chinese nationals believe that the court's ruling was strongly influenced by the United States and some have begun boycotting American companies. Zhang Yunlong, general manager of Bina Technology, said that their ban on iPhones was an act of "patriotism".
Additionally, the tech firm has promised to compensate staff members up to 2,500 yuan if they replace their iPhone 6 with a different smartphone brand. It has also said it will pay a bonus of 1,5000 yuan if staff members replace their iPhone 5 and 1,000 yuan to those who replace their iPhone 4.
According to Newsweek, at least 13 members of staff have expressed interest in changing their mobile smartphones to a different brand. Bina Technology's anti-Apple policies come one week after a number of people in China were filmed smashing their iPhones.
Others gathered to protest outside American fast food chain KFC, stating that eating KFC food from the US would be a "disgrace" to their ancestors. There have also been reports of Chinese people refusing to buy products made in the Philippines as a further protest against The Hague's ruling earlier this month.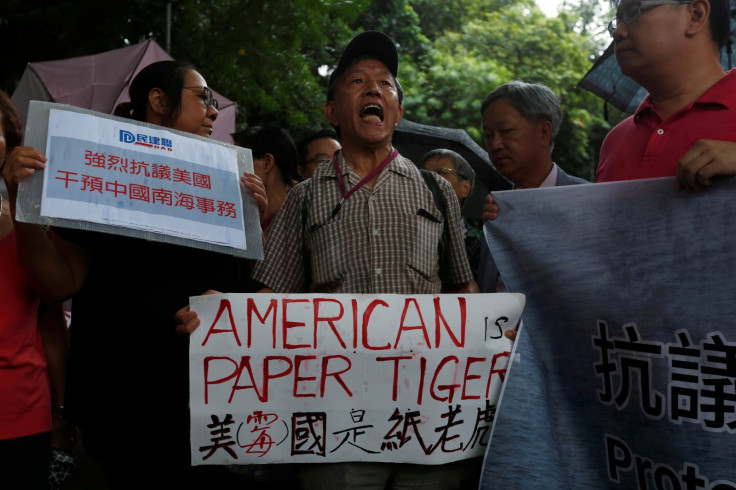 China has increased military activity in the highly-disputed seas, causing much concern for its smaller neighbours and becoming a source of confrontation with the US. China claims most of the energy-rich waters, which also host roughly $5tn in ship-borne trade annually, while Brunei, Malaysia, the Philippines, Taiwan and Vietnam also have claimed parts of the South China Sea.
Speaking about China's reaction to the ruling, Bill Hayton, an expert on Southeast Asia, told IBTimes UK: "China has reacted angrily and in a way quite different to most states that are faced with an adverse ruling from an international hearing. In the medium term we must hope that Chinese officials will realise their mistake and strive to seek common ground with the neighbours and the international community."
Before The Hague's ruling, a spokesperson for the Chinese Defence Military said: "No matter what kind of ruling is to be made, Chinese armed forces will firmly safeguard national sovereignty, security and maritime interests and rights, firmly uphold regional peace and stability, and deal with all kinds of threats and challenges."