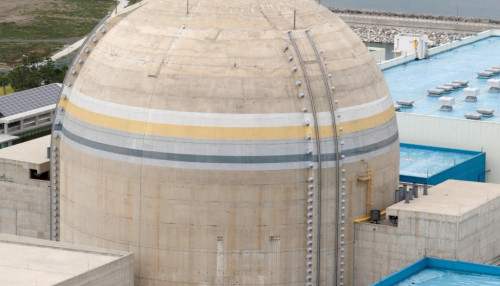 South Korea on 29 January approved a $7bn (£4.2bn, €5.1bn) project to build two nuclear plants, the first approval since a policy review triggered by a safety scandal at domestic reactors.
The power plants will each have 1,400-megawatt of capacity and are expected to be completed by the end of 2020, reported Reuters.
The nod for the plants comes just two weeks after Asia's fourth-largest economy revealed a policy shift to lower its dependence on nuclear power to 29% of total power supply by 2035, down from a planned 41% by 2030.
The approvals also lend support to the South Korean nuclear power industry, under pressure to emerge from the shadow of Japan's Fukushima Daiichi nuclear disaster, enabling it to export know-how into a global market dominated by France, the US and Russia.
The new facilities approved on Wednesday are in addition to the five nuclear power plants already under construction, including one that is expected to be built in July 2014.
Reactor Shutdowns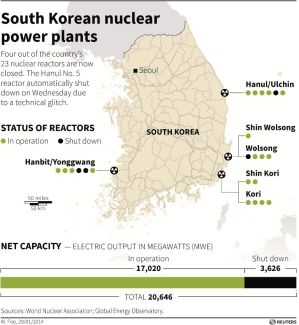 On 29 January the nation shut down a nuclear power plant owing to a technical hitch, taking the number of closed reactors to four and increasing the risk of power shortages during the winter.
A series of nuclear reactor shutdowns since 2013, owing to safety issues, have increased the risk of blackouts, piling pressure on the government to maintain power supplies in an economy dependent on energy-craving industries such as autos, electronics and steel.
Public Ire
Seoul has faced public pressure to limit the use of nuclear power in the wake of the Fukushima disaster, the worst nuclear accident since Chernobyl in 1986.
Prime minister Chung Hongwon's government is also struggling to restore public confidence in nuclear power generation following a scandal over parts supplied using fake certificates.
South Korea has 23 nuclear reactors that generate about a third of its electricity. Any move away from nuclear would force the nation to spend billions of dollars on additional fossil fuel imports.
Seoul adopted a lower target for nuclear power earlier in the month, but it still aims to double its nuclear capacity over the next 20 years. State-run industry plans builds at least 16 new domestic reactors and is simultaneously eyeing overseas sales.
South Korea, which ranks fifth globally in nuclear power generation, builds and operates reactors through state-run utility firm Korea Electric Power (Kepco).
Kepco is part of a South Korean consortium that is building four nuclear reactors in the United Arab Emirates (UAE).