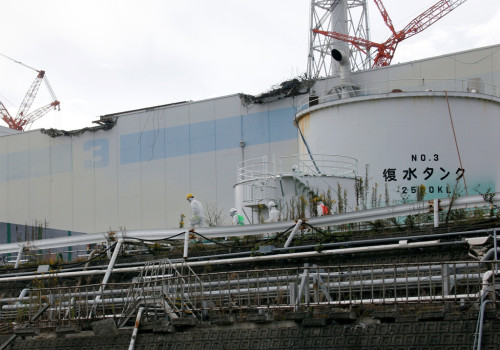 Tokyo Electric Power, the operator of the tsunami-crippled Fukushima Daiichi nuclear power plant, said it is investigating the source of another leak of radioactive water at the wrecked facility.
Tepco said in a statement it is probing the origin and cause of the leak, which was discovered inside the No 3. reactor.
The latest leak could have come from the containment vessel used to cool melted fuel at the reactor, according to reports.
The company also released a video of the water leak on the first floor of the reactor building.
The contaminated water probably had not escaped the building, a spokeswoman for Tepco said.
Beta radiation levels of 24 million becquerels per liter were detected in the water from the first floor of the reactor building, Tepco said. In December beta radiation levels of 57 million becquerels per liter were detected in water beneath the same unit.
The temperature of the leaked water measured about 20 degrees Celsius (68 degrees Fahrenheit), compared with the surrounding air's seven degrees Celsius, the statement added.
The latest leak threatens to weaken the company's attempts to distance itself from the March 2011 disaster as it tries to rebuild itself.
Tokyo-based Tepco last week put out a turnaround plan calling for investments in upstream energy projects and overseas electricity businesses.
Japan To Recreate Disaster
Earlier in the month, Japanese scientists said they would recreate the Fukushima nuclear disaster in a controlled experiment to learn what caused the meltdown three years ago.
A spokesman of the Japan Atomic Energy Agency said researchers wanted to determine exactly what happened to the three nuclear reactors in order to prevent such a disaster from happening again.
Plugging the radioactive water leaks along with groundwater and ocean contamination at the Fukushima Daiichi plant could take over five years, said a report released by a government advisory body in December.
The March 2011 earthquake and tsunami knocked out cooling systems at the nuclear power plant, triggering fuel meltdowns that led to a radiation leakage. It remains the worst nuclear accident since Chernobyl in 1986.