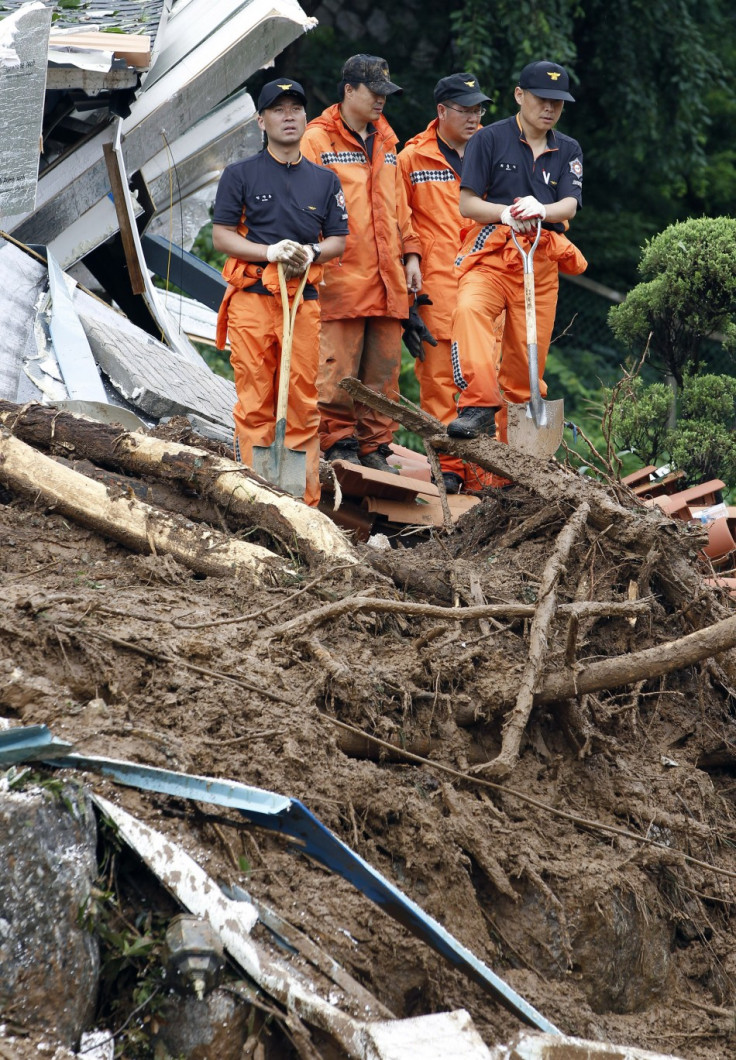 18 people were killed following torrential rain in South Korea, after the outpour triggered landslides flooded hundreds of homes, rescuers said on Wednesday.
Twelve people died when a mudslide hit an inn and three homes in the mountainous Chuncheon area 100 kilometres (60 miles) east of Seoul early Wednesday, the National Emergency Management Agency (NEMA) said.
Another five people were killed in a mudslide at Bangbaedong in southern Seoul Wednesday and one at Umyeon Mountain in the city, which was hit by 380 millimetres (more than 15 inches) of rain since Tuesday.
The authorities reportedly deployed 500 fire-fighters in an effort to boost rescue effort while police were still under way at Chuncheon.
Sources added that ten of the victims were students from Inha University in the western city of Incheon and were in the area doing voluntary work.
"I was sleeping on the second floor of the pension (inn) when I heard the thunderous sound of a landslide. The stairs collapsed and I was buried under mud," one student rescued by firefighters told Yonhap news agency.
NEMA said 20 others were injured, four of them in serious conditions.
In Seoul, police declared a special emergency and more than a thousand officers were mobilised to help block roadways in order to avoid road accidents.
Streets, subway stations, underpasses and residential districts were flooded throughout the capital. According to Yonhap, in Uijeongbu north of Seoul three people were reportedly missing as a result of the floods.
"We are overwhelmed by so many rescue requests and it's not easy to keep track (of the damage)," a NEMA official told AFP.
The agency said floods or mudslides shut 36 major roads nationwide, including 23 in Seoul, while more than 700 homes were flooded in the capital, while others were could not leave home because of dangerous landslides or flooding.
News reports said more than 150 traffic lights were malfunctioning in Seoul, while mobile phone networks were cut off in some areas.