South Korean president Park Geun-hye's relationship with her so-called "shaman advisor" Choi Soon-sil lies at the heart of the corruption scandal that prompted thousands of demonstrators to demand Park's resignations on 29 October.
Choi, 60, arrived in South Korea from Germany a day after the protests, facing state prosecutors on 31 October to answer questions with regards to allegations of meddling in state affairs.
She is also accused of having used her influence over President Park to amass a fortune in donations to her two non-profit foundations and gain a spot for her daughter at one of Korea's top universities.
Korean media reported that Choi apologised for her behaviour as she stepped into the prosecutors' office, struggling to make her way through the crowds of protesters, security and media. "I am so sorry," she told reporters before entering the office. "I've committed a capital offence."
President Park acknowledge in a public apology on 25 October that Choi had edited some of her speeches and provided public relations help. An old hard drive belonging to Choi, who has never held public office, was found to contain classified documents, allegedly dealing with government internal and foreign policies.
According to Korean media, exchanges between the two women show that the president was relying on Choi's advice for different issues, from trivial matters such avoiding the colours red and white, to whom to appoint to public office roles. She is also accused of creating an elite group of unofficial advisers called "the eight fairies" who enjoyed preferential access to the president.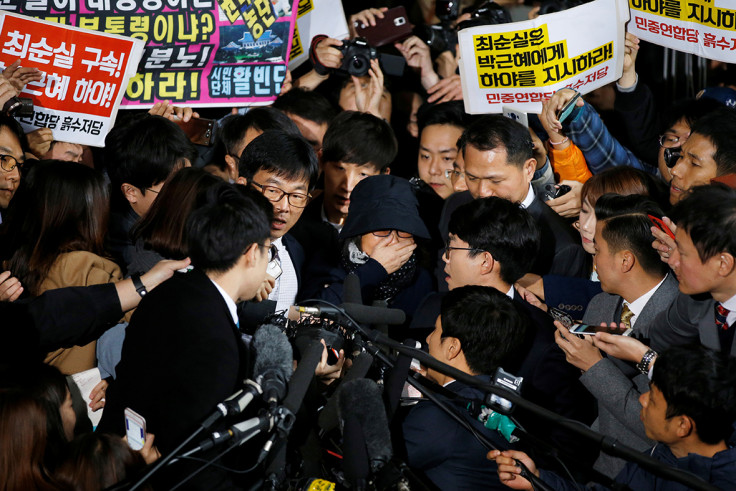 The story of how Choi grew to exercise such influence is rooted in the women's family ties. The two have known each other for over 40 years, as Choi's father Choi Tae-min was a close confident of Park's father, military dictator Park Chung-hee. Choi Soon-sil was born from Choi's fifth marriage, and she practices Korean shamanism, the country's oldest religion, also known as Muism or Sinism.
Her father was a Buddhist policeman who converted to Christianity and later set up a cult called the "Church of Eternal Life". In the guise of a spiritual leader, he became an advisor to Park's father and a mentor to her until his death in 1994. Korean media reports he won her trust by saying he was able to communicate with her late mother, who appeared to him in his dreams.
His influence over the future President did not fail to register with international diplomats, as an American diplomatic cable from 2007 that was released by Wikileaks said: "Park has also been forced to explain her own past, including her relationship some 35 years ago with a pastor, Choi Tae-min, whom her opponents characterize as a 'Korean Rasputin', and how he controlled Park during her time in the Blue House [Korea's presidential palace] when she was first lady after her mother's assassination".
More than the corruption and murky deal, what concerns the Korean people the most are the mystical undertones to the relationship. "This is not even a dictatorship" Choo Mi-ae, chairwoman of the main opposition Minjoo Party, has reportedly stated, "It's a scary theocracy."