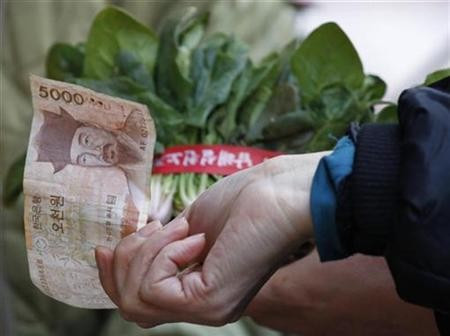 South Korea has lowered its economic growth outlook for 2012 and 2013 due to reduced demand from its key export markets, the US and Europe.
The country has cut its 2013 growth forecast to 3 percent from 4.3 percent, while it expects a growth rate of 2.1 percent in 2012, down from 3.3 percent projected earlier.
South Korea's exports account for almost half of its gross domestic product (GDP). However, the economy has been suffering from slowing demand from markets such as the US and the eurozone.
"In the first half of 2013, our economy would grow at a modest pace due to lasting uncertainties related to the US fiscal cliff and the eurozone fiscal crisis," the ministry said in a press release.
"Downside risks from Europe are bigger than anticipated," said Choi Sang Mok, a director general at South Korea's finance ministry.
The country's current-account surplus is expected to fall to $30bn (£18.6bn, €22.6bn) in 2013 from an estimated $42bn in 2012, according to the finance ministry. The ministry also projects a 4.3 percent rise in exports in 2013 with inflation staying at 2.7 percent.
In the third quarter of 2012, Asia's fourth-largest economy recorded a growth rate of 1.6 percent year over year, its slowest growth pace in three years.
A separate report from South Korea's central bank said that the country's growth rate would gradually increase from the middle of 2013 along with the recovery of the global economy. The bank notes that any upward pressures on consumer prices "are not expected to be large."
"While firmly laying the foundation for price stability by for example lowering inflation expectations, the Bank will at the same time be vigilant so that consumer price inflation is kept within the inflation target range over a medium-term horizon," the central bank said.
At the same time, the Bank of Korea will examine possible economic imbalances "arising from the extended duration of its accommodative monetary policy stance".
The benchmark interest rate is at 2.75 percent compared with 5.25 percent before the global financial crisis.
In order to tackle the slowing demand for exports, the country has adopted policies to boost domestic consumption. In September, it announced a $5.2bn stimulus package, including tax breaks on personal incomes and purchases of homes and cars.