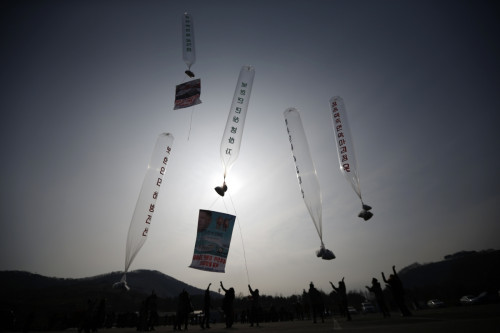 Activists in South Korea have dropped thousands of leaflets and USB memory drives carrying anti-Pyongyang messages into North Korea, in a move likely to raise tensions in the Korean peninsula.
Despite a warning from the North Korean regime against such initiative, the activists - largely North Korean defectors and critics – have sent the balloons carrying the messages over the heavily-guarded border region.
"There is clearly enormous hunger for outside information in North Korea. USB keys are one of the most powerful tools, because they're small, can be hidden and shared easily, and carry massive amounts of data," said Thor Halvorssen, president of the US-based Human Rights Foundation which backed the event, told AFP.
Nearly 500,000 leaflets and 1,500 USB drives, equipped with Wikipedia information over human rights abuses, have been dropped in a bid to create awareness among North Koreans.
Alongside the leaflets and flash drives, DVDs have also been dropped.
"This is aimed at letting North Korean people know about (leader) Kim Jong-Un's brutality... and deliver a message to North Koreans that now is time for them to rise up and finish the dictatorship," said Park Sang-Hak, the leader of the defector group which organised the balloon launch.
The media in North Korea is fully controlled and run by the regime. It is often considered as the most isolated and censored society in the entire world.
The country is believed to have recently executed 80 people in public for watching South Korean television shows.