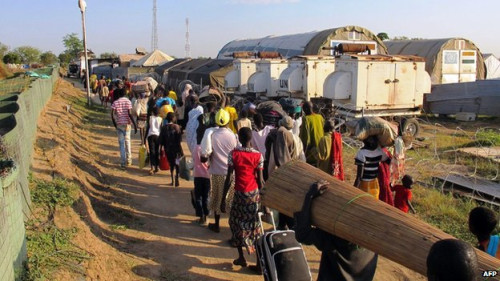 UN official Toby Lanzer has told BBC of an "atmosphere of fear and violence" in South Sudan which is dragging in many thousands of people.
"I'm quite concerned that in a few days' time we won't be talking about tens of thousands, we'll be talking about hundreds of thousands directly affected" Mr Lanzer said about refugees who are seeking shelter at the UNMISS, the UN mission in South Sudan.
"It's really very moving to see people just asking: 'Can you please keep me alive?'"
Mr Lanzer added that there is a danger not just from fighting by conventional armies, but from groups of youths who are simply "out of control."
In a statement issued by UNMISS, it was announced that as a precautionary measure to reduce pressure on its limited resources, non-critical staff would be relocated from Juba to the Ugandan city of Entebbe.
"We are not abandoning South Sudan. We are here to stay, and will carry on in our collective resolve to work with and for the people of South Sudan," said Special Representative for South Sudan and head of UNMISS, Hilde Johnson.
Secretary-General Ban Ki-moon urged all political, military and militia leaders to find a compromise and end the violence against civilians.
"I call on President Salva Kiir of South Sudan and opposition political leaders, including former Vice President Riek Machar, to come to the table to find a political way out of this crisis. [...] I call on them to do everything in their power to ensure that their followers hear the message loud and clear that continued violence, ethnic and otherwise, is completely unacceptable and poses a dangerous threat to the future of their young country." Ban said at the start of a press conference in Manila.
The Obama administration deployed 45 troops to reinforce security for Americans staying in South Sudan, after the evacuation of some 380 US officials and private citizens.
"As I monitor the situation in South Sudan, I may take further action to support the security of US citizens, personnel and property, including our embassy, in South Sudan" President Obama said in a letter to Congress leaders.
Britons were urged to leave South Sudan during the third and final evacuation on Sunday. Anyone choosing to stay behind could not be guaranteed consular assistance, the Foreign Office warned.
The conflict in South Sudan started when President Kiir accused former vice-president Machar of attempting to overthrow the government.
The accusation sparked violence between troops loyal to Kiir and others backing Machar.
The violence, which broke out in the capital Juba last weekend, has since spread.
South Sudan rebels took over Bentiu, the capital of a key oil-producing region on Sunday.
The number of civilians who have fled their home towns to the UN mission has reached 40,000.