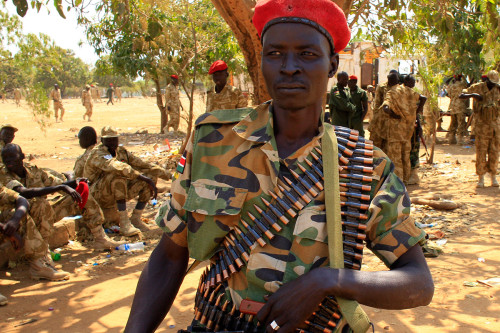 South Sudan's government and rebels have signed a ceasefire after five weeks of escalating ethnic warfare.
Government negotiator Nhial Deng Nhial said the negotiations were "not easy" but appeared cautiously optimisitc about the five-point plan that had been thrashed out in the Ethiopian capital of Addis Ababa.
"We hope to be able to make haste towards an agreement that will end bloodshed," he said.
"What worries us is whether the agreement on the cessation of hostilities will stick [and] the capacity of the rebel group to stop fighting. We would urge the rebel group to heed the voice of reason and abandon the quest for political power through violence."
The conflict started when President Salva Kiir, an ethnic Dinka, accused his then vice-president, Riek Machar, an ethnic Nuer, of an attempted coup.
Machar denied the allegations and in turn accused the president of planning a violent purge.
The accusations sparked violence between the two tribal groups and escalated quickly into an ethnic conflict, which has caused the death of over 1,000 people and left 500,000 uprooted.
The agreement was signed in Addis Ababa by representatives of Kiir and rebel delegates loyal to Machar.
Taban Deng, head of the rebel delgation, said that the deal were "the ingredients to create an environment for achieving total peace in my country".
What are the main points of the deal?
Stop all fighting within 24 hours
South Sudan agrees to release 11 officials close to Machar who were detained after fighting broke out in December. No timeline set
"Pave the way for a serious national political dialogue", according to Taban Deng, head of the rebel delegation
Verification and monitoring mechanism to ensure ceasefire keeps.