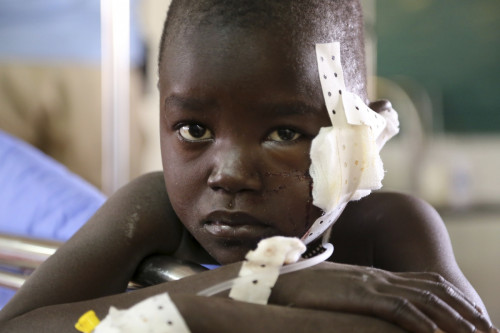 The conflict in South Sudan started in December 2013 after President Salva Kiir, who is an ethnic Dinka, accused his former vice-president, Riek Machar, an ethnic Nuer, of an attempted coup.
Machar denied the allegations and in turn accused the president of planning a violent purge.
Here are five essential facts about the ongoing conflict:
It is an ethnic, not a political conflict The accusations of an attempted coup sparked violence between the two tribal groups and escalated quickly into an ethnic conflict. The two leaders, Kiir and Machar, belong to two separate tribes, Dinka and Nuer, now integrated under the state of South Sudan.
UN warned of the risk of genocide The UN said that government soldiers and rebels had committed atrocities. Over 1,000 people have been killed and around 500,000 have been displaced in the conflict. In a letter to Congress, Obama warned that the world's newest country was on the verge of civil war. Washington also warned that if the fighting was not ended, South Sudan would lose thousands of dollars in aid.
China, a major investor in South Sudan's oil industry, urged an immediate ceasefire.
Thousands have fled the country Tens of thousands of people have fled South Sudan to Uganda, Ethiopia, Sudan and Kenya since violence broke out. The majority have fled to Uganda, with 4,000-5,000 a day arriving by mid-January, according to the UN Refugee Agency.
"Aid agencies are also concerned about the high number of children fleeing South Sudan. Eighty percent of new refugee arrivals from South Sudan into Uganda are children," United Nations Office for the Coordination of Humanitarian Affairs spokeswoman Michelle Delaney told IBTimes UK.
More than 200 people fleeing fighting in the city of Malakal, Upper Nile State died in a Nile ferry accident.
The peace talks have reached a stalemate Peace talks started in the Ethiopian capital of Addis Ababa three weeks ago. The warring sides agreed on a ceasefire but have not yet decided on a date. The talks are not progressing as the government refused to accommodate the rebels' requests.
The rebels asked the government to release 11 political prisoners accused of attempting to overthrow the regime and want Ugandan troops to stop supporting the government.
Ugandan president Yoweri Museveni confirmed that some 1,600 soldiers were deployed in South Sudan.
Atrocities on both sides NGO Human Rights Watch said that crimes against humanity had been committed by both the rebels and the government. The crimes include mass killings, extrajudicial killings, arbitrary detention, sexual violence, looting of property and use of children in conflict.
"Appalling crimes have been committed against civilians for no other reason than their ethnicity," said Daniel Bekele, Africa director at Human Rights Watch.
"Both sides need to leave civilians out of their conflict, let aid groups reach people who need help and accept a credible, independent investigation into these crimes."