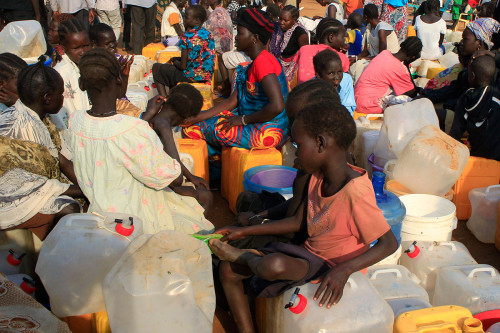 A team of Medicins Sans Frontiers (MSF) workers have evacuated several dozen patients from a hospital in the South Sudanese town of Leer, due to the violence which continues to tear the country apart.
The patients were taken into the bush by a team of around 30 MSF operatives, according to sources close to the scene.
"Despite incredibly challenging circumstances, MSF local staff continued running the hospital in Leer for as long as they could," says Raphael Gorgeu, MSF's Head of Mission.
"However in the past three days, the situation became too unstable and the only way to provide medical care was to take patients out of the hospital and to flee with the population into the bush.
"Leer Hospital was the only fully functioning hospital in southern Unity State and now that it is no longer safe to work in this medical facility, more than 270,000 people have no access to healthcare," Gorgeu continued.
Twelve MSF non-local staff were forced to evacuate Leer due to rapidly deteriorating security on 21 January and there are no longer any patients or staff left at Leer Hospital.
"Our colleagues have shown tremendous dedication, continuing to care for patients with only basic medical kits, cleaning and dressing wounds, treating diseases like malaria and providing what healthcare they can," says Gorgeu.
"Right now they have a very limited medical supply and when that supply runs out, the situation will become even more dire for people who depend on us for healthcare."
MSF is also providing medical and humanitarian aid to refugees from South Sudan in Kenya and Uganda, and will soon begin activities for refugees in Ethiopia.
The release of seven political prisoners was a compromise which partially met demands by rebels to free 11 detainees.
The US has urged the South Sudanese government to release the remaining four political prisoners, in order to reach a peace agreement and end the fighting.
A ceasefire was agreed by both warring sides who advised that this is only a temporary measure and further talks will be necessary.
Over 1,000 people have been killed and around 500,000 have been displaced in the conflict, which started when president Salva Kiir, who is an ethnic Dinka, accused his former vice-president, Riek Machar, an ethnic Nuer, of an attempted coup.
The accusations of an attempted coup sparked violence between the two tribal groups and escalated quickly into an ethnic conflict.
The UN warned against the risk of genocide and NGO Human Rights Watch said crimes against humanity are being committed by both warring sides. The crimes include mass killings, extrajudicial killings, arbitrary detention, sexual violence, looting of property and use of children in conflict.