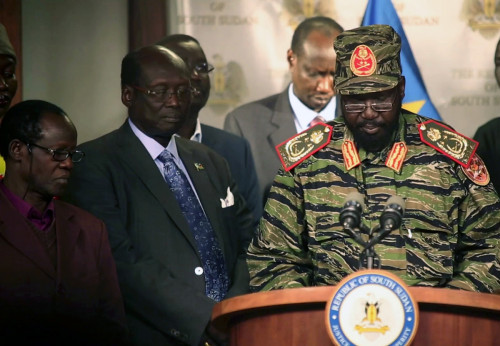 Forces loyal to South Sudan's president have raided the home of the country's former vice president Riek Machar whose troops have been accused by president Salva Kiir of leading a coup attempt.
Intense gunfire erupted again in the capital Juba, including the firing of heavy weapons, as terrified residents barricaded themselves in their homes or attempted to flee the city.
At least 66 soldiers have been killed in the violence and at least 130 more are reported to have been injured.
The compound of Machar - a former guerrilla commander who was married to British aid worker Emma McCune who died in a car accident in Kenya – was protected by Machar's bodyguards but the raid destroyed much of the property, according to the Sudan Tribune.
Gunshots were also heard around the house of Inspector general of police service Pieng Deng Juolo, where senior officials sacked by Kiir along with Machar in July and who attempted the coup are hiding.
Among them are former defence minister Majak D' Agoot, former environment minister Gier Chuang Aluong, former Lakes state governor Chol Tong Mayay, former investment minister General Oyai Deng Ajak, former minister of justice John Luk Jok, former minister of culture Cirino Iteng, and former telecommunications minister Madut Biar Yel.
"We can still hear sporadic shooting from various locations. The situation is very tense," Emma Jane Drew of the British aid agency Oxfam told AFP.
UN said that at least 10,000 civilians had taken refuge at UN offices.
Drew said there were unconfirmed reports of violent house-to-house searches of civilians' houses.
The United Nations mission in Sudan (UNMISS) said Special Representative of the UN Secretary-General Hilde F. Johnson called on "all parties in the current situation to refrain from any community-motivated violence".