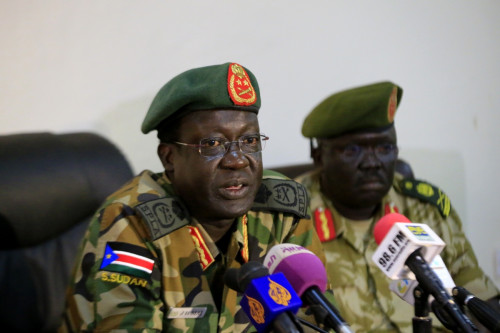 South Sudan's government and the rebels are starting direct talks to end weeks-long fighting that has killed more than 1,000 people.
Delegations from the warring factions loyal to President Salva Kiir and former vice-president Riek Machar held talks with mediators in Ethiopian capital Addis Ababa on Friday to prepare the ground for face-to-face discussions.
The initial meetings had been fruitful, Ethiopia's Foreign Affairs Minister Tedros Adhanom said, according to the BBC.
"We just finished the first round of proxy talks with both negotiating teams of #SouthSudan. Will proceed to direct talks tomorrow," Adhanom said in a Twitter message.
However, there were reports of continued fighting near the rebel-held city of Bor, and the rival forces asserted they were pushing into each other's territory.
The government forces said they were closing in on Bor, the site of an ethnic massacre in 1991, and the city of Bentiu in the northern state of Unity. "The rebels will be flushed out of Bor any time," SPLA spokesman Philip Aguer said, according to Reuters.
But the rebels claimed they were advancing into Sough Sudan's capital, Juba, and that the government forces were on the run.
Spectre of civil war
The bloodletting that broke out on 15 December has displaced more than 200,000 people from their homes and raised the spectre of a civil war between the ethnic Dinkas loyal to President Kiir and Machar's Nuer community.
The United Sates has said it is committed to finding a solution to the conflict though it evacuated most of its embassy staff from the country.
"Even as we draw down our personnel, we continue to be engaged in and strongly support regional and international efforts to bring the violence to an end," State Department deputy spokeswoman Marie Harf said.
Washington's special envoy to South Sudan, Donald Booth, asked the rival groups to work out an "immediate cessation of hostilities" and allow unfettered humanitarian access to the conflict zone, the AFP reported.
"Dialogue is critical to resolving the political crisis at the core of this conflict, and in reconciling the nation," Booth said.
South Sudan was formed in 2011, following a decades-long, violent struggle for independence from Sudan. The seeds of the present conflict were sown during the independence movement, which saw factions fighting among each other as well as against Khartoum.
Power struggle in the world's newest nation escalated in July last year when Kiir sacked his deputy Machar, accusing him of trying to capture power.