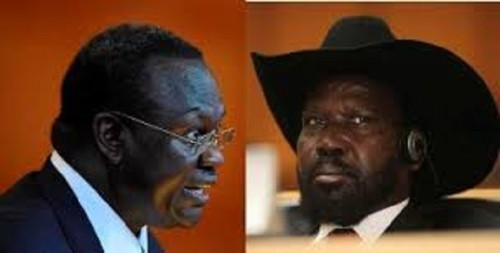 The South Sudan government has agreed to hold peace talks with rebels to end hostilities that have claimed more than 1,000 lives in just a few weeks.
President Salva Kiir and rebel leader Riek Machar were on their way to Ethiopia for exploratory negotiations.
"Both President Salva Kiir and Dr Riek Machar are coming to Addis Ababa for talks," Ethiopia's foreign ministry spokesman Dina Mufti said.
The US special envoy to South Sudan, Donald Booth, described the move as "a first but very important step to achieving a cessation of hostilities".
Kiir and his former deputy were brought to the negotiating table by the efforts of neighbouring countries after weeks of bloodshed.
Uganda's President Yoweri Museveni threatened Machar with military action if his rebels did not agree to a ceasefire.
Earlier on Tuesday, rebels overran the strategic town of Bor about 120km (75 miles) from the capital of Juba.
Violence erupted in mid-December in the capital and quickly spread through the country.
Kiir, an ethnic Dinka, blamed the violence on an attempted coup by the country's former vice-president, Riek Machar, an ethnic Nuer.
Tensions between the two tribal groups have been high since Kiir fired his entire cabinet, including Machar, earlier in the year.
Approximately 40,000 people have taken refuge from the fighting in UN bases since violence broke out.