Southeastern and Greater Anglia Tops Which? Worst Train Firm Poll
A Which? survey has revealed that British commuters have recorded "shockingly" low levels of satisfaction with the majority of train companies across the country.
According to the consumer campaigning charity, which questioned more than 7,400 regular train passengers across all of the major train operating companies (TOCs), 11 of the 19 companies had a customer score of 50% or lower.
Southeastern and Greater Anglia came bottom of the list, with a score of 40%.
But Merseyrail steamed ahead of its competitors with a record rating of 70% [Fig 1].
"It's disappointing to see some train companies consistently falling down on the basics of customer service, with dirty and overcrowded carriages and toilets that don't work," said Richard Lloyd, executive director of Which?.
He added: "Seven rail franchises end in the next two years and we want to see passengers' experiences put right at the heart of the tender process so companies respond to consumer expectations and can be held to account if they don't."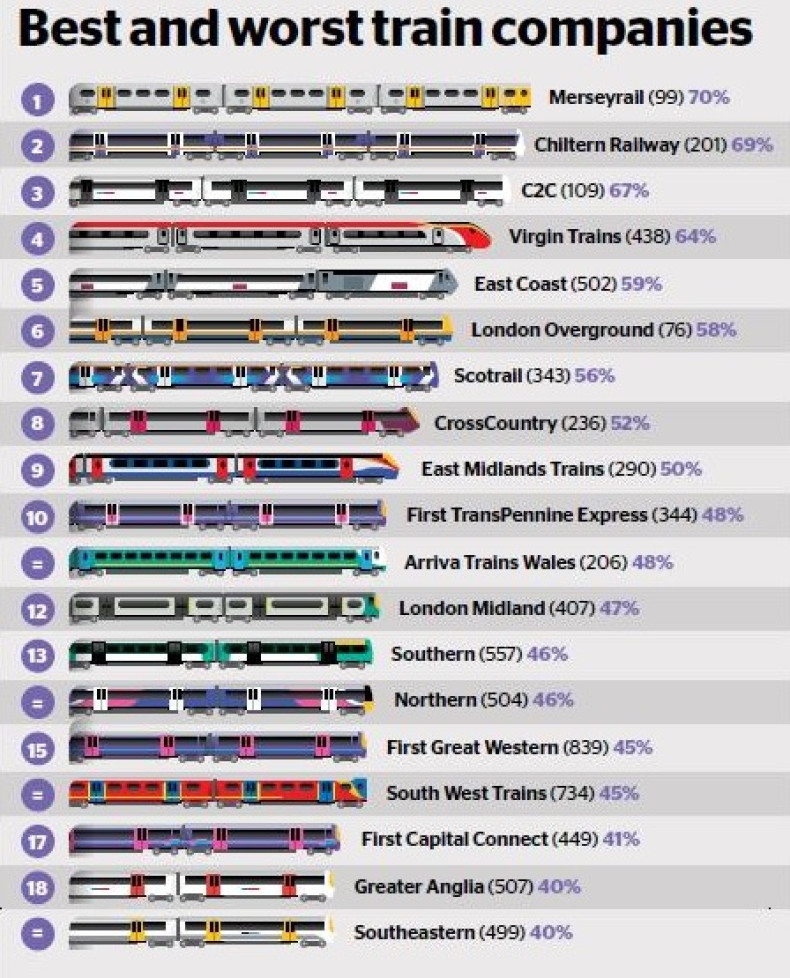 The charity also asked passengers about their overall experience and found nearly one in five (16%) of all passengers experienced a delay on their last journey (this rose to 26% for commuters).
The study also found one in five (21%) of the commuters said they were likely to have stood on their last journey.
In addition, the research revealed one in ten (11%) of the respondents said toilets were not in good working order – this rose to 20% for London Midland Trains, 19% for Southeastern and 17% on First Capital Connect.
The Train Companies' Responses
Abellio Greater Anglia: "We are disappointed by the findings of the Which survey.
"The results are based on a significantly smaller sample size than the National Passenger Survey (NPS) by the independent rail industry watchdog Passenger Focus, who survey almost 2,200 of our customers in a much more representative twice-a-year survey compared to Which who surveyed 507 passengers.
"In the most recent NPS which was undertaken at a similar time to the Which survey and involved a much wider cross section of our customers who were interviewed over a longer period of time, 80% told Passenger Focus they were satisfied overall with the service, and amongst our Mainline Intercity customers, 91% were satisfied with their journey."
Southeastern: "We're disappointed with the result of the Which? survey, but we've had a challenging few months with bad weather and infrastructure problems affecting services and so it's understandable that customers have expressed their frustration through this survey.
"Just last month the independent National Passenger Survey, based on a larger sample of customers, said 84% of passengers were satisfied with our service and placed us better than the national average.
"We've been working hard to improve reliability and to ensure that customers have the information that they need in the event of disruption. We take all feedback on board and we're committed to continuing to work on improving our service."