The storms causing flooding and mudslides in Southern California are unlikely to replicate themselves in Europe, despite El Nino statistically increasing the chances of heavy rain. The Met Office confirmed that El Nino's impact is much larger in the Americas and southern Africa, but Europe, northern Africa and most parts of Asia would be spared the stormy conditions.
On Thursday (15 October) heavy rain triggered flash floods and mudslides in Southern California, leaving many motorists stranded. Los Angeles' County Fire Department responded to multiple rescue calls as forecasters predicted the showers and thunderstorms were set to continue.
The stormy conditions arrived only a few days after a warning was issued about this year's El Nino weather system gaining strength, with the possibility of recreating the record-breaking winter of 1997. The strongest El Nino on record was recorded that year, bringing flooding and mudslides that destroyed houses and even killed residents in California.
However, the Met Office confirmed that El Nino's effect is not as drastic in Europe. Jeff Knight of the Climate Variability Modelling Group, told IBTimes UK: "El Nino tends to have a rather smaller effect on Europe than it does on North America so we wouldn't expect for there to be a huge increase in the likelihood of there being very wet weather in the coming months. We could see a small increase in terms of the effects of El Nino in the UK, but not nearly as large as seen in California."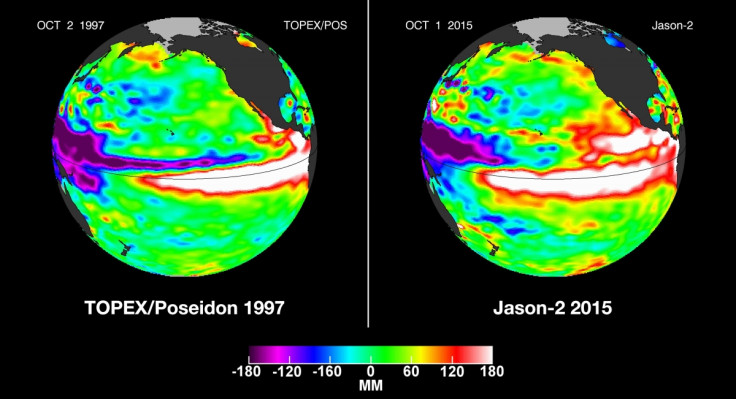 Speaking about the UK, Knight said: "Looking at past events we can see that El Nino does have an impact, but it is moderate," said Knight. "The tendency for the UK is in the early parts of the winter to have a slightly increased risk of wetter and stormier conditions. Then in the late part of the winter we have a slightly enhanced risk of cold conditions."
The strong El Nino weather system being seen this year has prompted forecasts for Britain to face the coldest winter in 50 years. Some reports have indicated that the country could face a repeat of 1963, when the worst winter in history saw temperatures drop to -20C, causing the River Thames to freeze. However, Knight said that any effect El Nino has on the UK would be "very small" and that it was only one factor in a wide range of factors that affect the UK's winter weather.