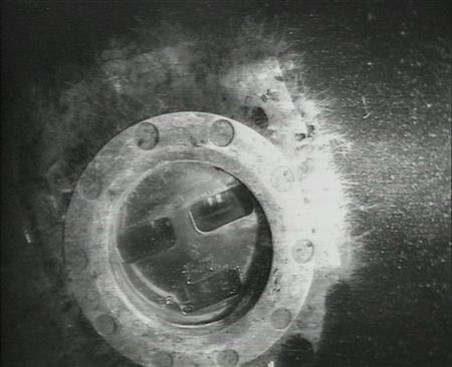 A Soviet submarine that was sunk by German action during the Second World War has been found off the coast of Sweden.
Sweden's Försvarsmakten armed forces announced that the vessel had been discovered near the island of Öland in the Baltic Sea, an area which Nazi Germany's infamous Kriegsmarine heavily mined during the war.
The vessel, believed to be the S6 which went down in September 1941, was found by civilian divers over the summer. Since then the Swedish salvage ship Belos has photographed the wreckage, which displays Russian text as well as hammer and sickle symbol of the Soviet Union.
A statement on the Swedish military website says: "In the autumn of 1941 several Russian submarines left their home bases to patrol the Baltic Sea. Several of them never returned. One of them has now been found, blown up into large pieces, southeast of Öland."
The military posted a video online of the wreckage on the seabed, showing that the bow and the stern of the submarine had been separated by about 20 metres in the explosion.
Commander Christian Allerman of the Swedish navy said: "[Sumbmarines} at the time often sailed on the surface in order to quickly flee and/or to recharge their batteries."
Russian authorities have been contacted in order for relatives and the Russian navy to conduct a memorial ceremony at the site.
This is not the first time Soviet submarines, unofficially nicknamed 'Stalinets', have been found in the waters off Scandinavia. In June 2009 divers found the wreck of the S2 sub sunk by German mines in January 1940 with some 50 crew members on board, in the sea between Sweden and Finland.