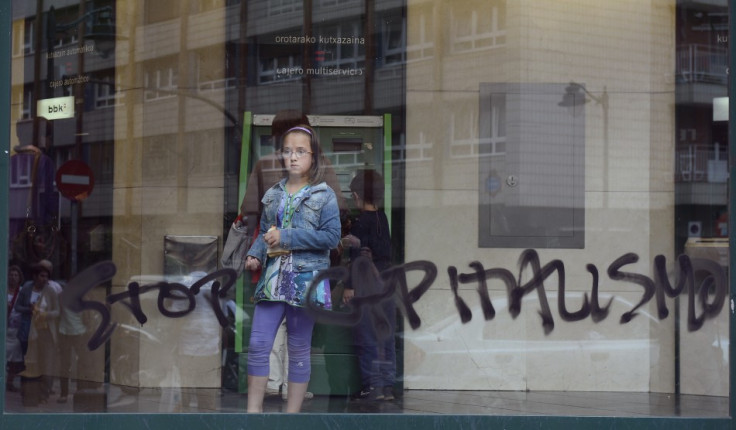 Europe is ready to act to bring stability to the eurozone, Germany's Angela Merkel said after a meeting with British Prime Minister David Cameron in Berlin on Thursday.
"It is important to stress again that we have created the instruments for support in the eurozone and that Germany is ready to use these instruments whenever it may prove necessary," said Merkel referring to the eurozone's temporary bailout fund, the European Financial Stability Facility (EFSF).
The EFSF has a lending capacity of €440bn and its permanent successor, €500bn strong European Stability Mechanism (ESM) would come into a force in July.
The comments came after the credit rating agency Fitch downgraded Spain three notches to BBB from A, leaving it just two notches short of junk status.
Fitch also put the outlook for Spain's government debt as negative indicating the Spanish economy is under heightened risk of further downgrades.
"The negative outlook primarily reflects the risks associated with a further worsening of the eurozone crisis, notably contagion from the ongoing Greek crisis," the agency said in a statement.
According to the latest Fitch estimates, the recapitalisation and restructuring cost of Spain's banking sector would be around six percent of Spain's GDP (€60bn, £48.56bn) and as high as nine percent of the GDP (€100bn).
Fitch also forecast Spain to remain in recession through the remainder 2012 and 2013 as against the rating agency's previous expectation of the chances of a mild recovery for the economy in 2013.
Merkel indicated that the end June meeting of the European leaders would not be able to bring in any concrete shape to the fiscal and banking union, which is touted as a way out of the worsening crisis.
"I don't believe that there will be one single summit that will decide on a big bang. But what we have been doing for some time, and on which a working plan will certainly be presented in June, is to say we need more Europe," Merkel told the German television ARD.
Spanish Prime Minister Mariano Rajoy said he would wait for the results of independent audits of the banking system before talking with Europe about how to recapitalise troubled lenders, according to a Reuters report.
Spain sold its €2.1 billion of government bonds at the rate of over six percent for 10-year yields, ruling out fears of Spain being shut out of the credit markets for the time being.
Meanwhile, the country nominated Luis Maria Linde, as the new central bank governor in an attempt to restore the credibility of the banking system.
If Spain seeks an EU bailout, it will need at least €40bn worth of aid, according to a report by Reuters quoting sources close to the International Monetary Fund (IMF) report due to be out on 11 May.