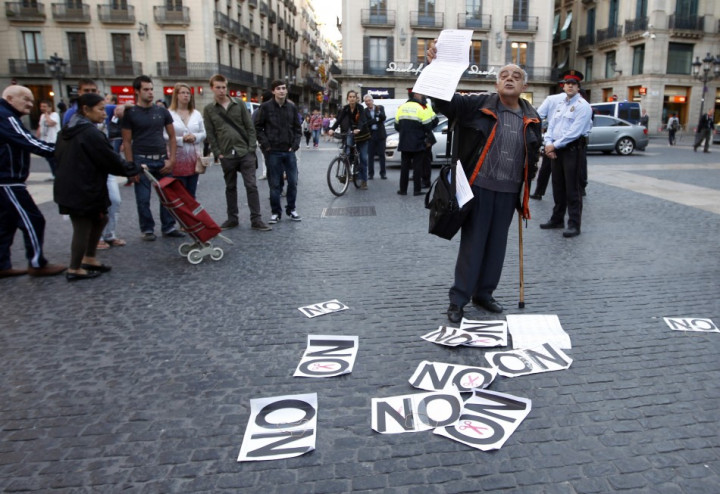 Spain's borrowing costs surged again at Thursday's €2.5bn bond sale as investors demanded even more yield protection to lend to one of the Eurozone's most vulnerable economies.
The auction was the first test of investor appetite for Spanish debt since Standard & Poor's slashed the country's credit rating two notches to BBB+ and lowered ratings for several of the nation's biggest banks and financial institutions. Data from the Bank of Spain has also confirmed the nation's slip back into recession and an unemployment rate of nearly 25 percent.
Three separate bond auctions were held by Spain's Treasury Thursday, raising just over €2.5bn. The largest of the sales, a €979m bond maturing in 2015, was priced to yield 4.037 percent, nearly 142 basis points higher than in a similar sale in March. A basis point is 0.01 percent.
The two other sales of five year paper, which carry coupons of 3.8 percent and 5.5 percent respectively, were also more expensive for the Spanish taxpayer, costing an extra 1.5 percent on average from prior sales.
Demand, however, was relatively robust, with investors bidding for around €3.7 for every €1 offered for sale by the Treasury.
Prices on Spanish government bonds, which move in the opposite direction of yields, fell sharply on international markets after the sales, which saw Spain paying 1.5 percent more for its three-year borrowing than it did in March. The extra yield, or spread, investors demand to hold Spanish government bonds instead of more highly-rated German bunds rose marginally to 425 basis points following the auction results, while Spain's benchmark 10-year bond yields edged higher to trade at 5.86 percent.
Credit default swap (CDS) prices on Spanish debt were little changed at 482 basis points. This means an investor would need to pay €482,000 each year for five years to insure €10m in Spanish government debt against default.
Spain's main stock index, the IBEX, was relatively firm on the session, trading nearly a full percent higher at 6,897.9 and paring year-to-date declines to 20.7 percent.
Spain officially sunk back into recession in the first three months of the year after a 0.4 percent contract was reported by the Bank of Spain last week. Eurostat, the European statistics agency, also reported that Spain's deficit hit 8.5 percent - more than four times the EU minimum - during 2011. Prime Minister Mariano Rajoy is currently attempted to implement nearly €27bn in spending cuts in an effort to reduce the deficit to a newly-agreed 5.3 percent
The Bank of Spain also said last week that non-performing loans at the country's banks rose to their highest levels since October 1994 in February. So-called bad loans now comprise around €143.8bn, or 8.2 percent of banks' portfolios. The figures are a €3.8bn increase from January and have increased concern that many of Spain's financial institutions may struggle to survive if the economic situation worsens. Non-performing loans were only 1 percent of banks' portfolios prior to the 2008 credit crisis.
The Bank of Spain added that commercial banks will need to raise around €15bn - and take charges of €29bn - to meet the government's proposals for capital adequacy, which were announced in February. Many analysts feel the totals could be far higher if the economy, which the IMF said Tuesday will likely remain in recession for most of the year, continues to deteriorate.
Spain's Economy Secretary, Fernando Jimenez Latorre "absolutely" ruled out the use of EU funds to support the country's banks although he did concede that further public funds could be needed.