The leader of Spain's Podemos party has claimed that the country has entered 'a new political era' after making big gains in the national elections.
The anti-austerity left-wing political party, founded less than two years ago, managed to win 69 seats out of 350 in Spain's parliament. The country faces political uncertainty as, with 99% of the vote counted, no one party has a majority to form a government.
Incumbent prime minister Mariano Rajoy and his ruling conservative Popular party won the election with 122 seats, far less than the 176 required for an absolute majority. It is the party's worst result in a general election, as the country grapples with recession and high unemployment.
The opposition Socialists won 91 seats, whilst another new liberal party, Ciudadanos, won 40 seats.
Speaking at a party rally after the results came in, Podemos leader Pablo Inglesias said that Spain's traditional two-party system was over. "Today is an historical day for Spain. We are very happy for the fact that in Spain the two-party system is ended, and we are happy because we are starting a new political era in our country," he said.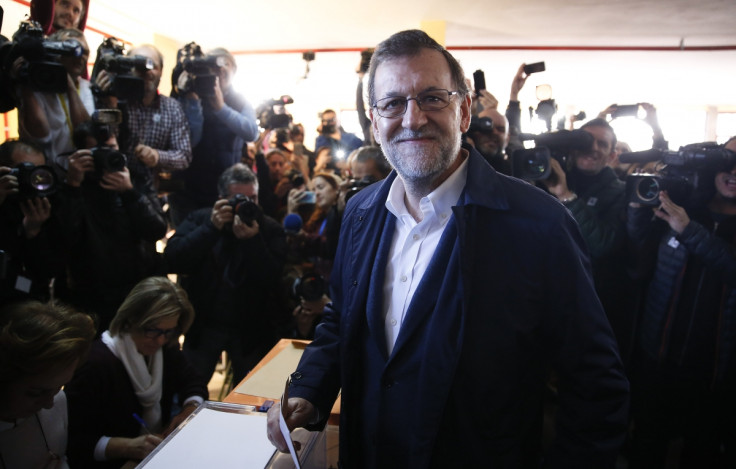 The PP and the Socialists have alternated running Spain's government for the past three decades. But with no clear majority at this election, the parties must now embark in negotiations in order to form a coalition. The results suggest at least three parties would have to join to form a coalition government and none of the main combinations predicted before the vote would reach an absolute majority, Reuters reported.
Five left-wing parties led by the opposition Socialists and Podemos together garnered 175 seats, just one seat below the 176 needed for a majority. Such an alliance would be difficult to agree upon as these groups differ on economic policy and other contentious issues, including the issue of Catalonian independence.