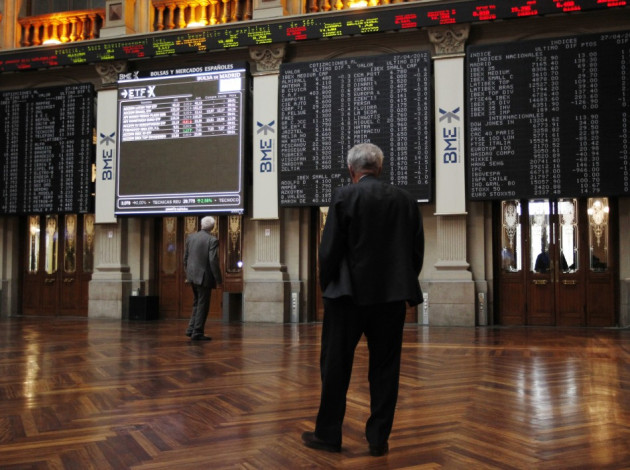 European stock markets drifted lower Monday after Spain's recession was confirmed by official data from the National Statistics Institute and Standard & Poor's slashed its ratings on the nation's largest banks.
Further concern was added to the figures when the Bank of Spain reported increases in both the government's current account and trade deficits for the month of February and the European Central Bank said Spain's piled a further €20.1bn worth of government bonds onto their balance sheets, suggesting a reluctance to extend loans and credit into the troubled Spanish economy.
The broadest measure of blue-chip European share performance, the FTSE Eurofirst 300, lost 0.32 percent Monday, trading 6.5 points lower at 1,044.00 at 1447 GMT. Spain's benchmark stock index, the IBEX, fell nearly 0.7 percent in in Madrid to 7,100.20. The index has fallen by around 20 percent so far this year.
Eurostat which gathers official statistics for the eurozone economy, said Monday that consumer price inflation in the 17 nations that share the single currency slowed to an annual 2.6 percent in April, down 0.1 percent from March but still ahead of economists' forecasts and well faster than the ECB's preferred target range. The data comes as money supply in the eurozone expanded at the fastest pace in nearly three years, growing €60bn, or 3.2 percent, compared to March of last year.
Collectively, the data suggest the ECB will be unlikely to offer further, immediate assistance to Spain's beleaguered banking sector given its prime mandate of delivering price stability in the eurozone. This could be acutely troubling for European investors after news that Standard & Poor's followed up its two-notch downgrade of Spain's debt rating last week by slashing the ratings on 11 of the nation's largest banks.
Banco Santander was cut one notch to A- while rival Banco Bilbao Vizcaya Argentaria, or BBVA, was lowered one rung to BBB+. The cuts reflect a growing concern that many - if not all - of Spain's banks will forced to seek assistance from the European Financial Stability Facility (EFSF) to shore up their capital base.
Some estimates suggest as much as €80bn will be required once the full extent of the Spanish property market collapse is factored. In fact, a paper published by the Centre for European Policy Studies claims the total figure - including construction and property loans - could be as high as €380bn. The Bank of Spain's last report on non-performing loans in the country's banking sector, released on 18 April, showed a jump to 8.16 percent on total lending in February, or €144bn, the highest since 1994.
Spain's economy shrank 0.3 percent in the first three months of this year, a tally that was slightly better than economists had forecast, according to figures published Thursday from the National Statistics Institute. On an annual basis, the contraction was measured at 0.4 percent, again slightly better than forecast.
The Bank of Spain reported the government's current account deficit for February rose €600m from January to €5.9bn. Spain's trade deficit - owing to a surge in the price of energy imports - rose to €3bn.
Spain's benchmark 10-year bond yields were little changed in Monday trading, marked at 5.89 percent and trading at a spread of 418 basis points against German bunds The spread represents the extra yield investors demand to hold Spain's government bonds instead of higher rated German bunds. A basis point is 0.01 percent.