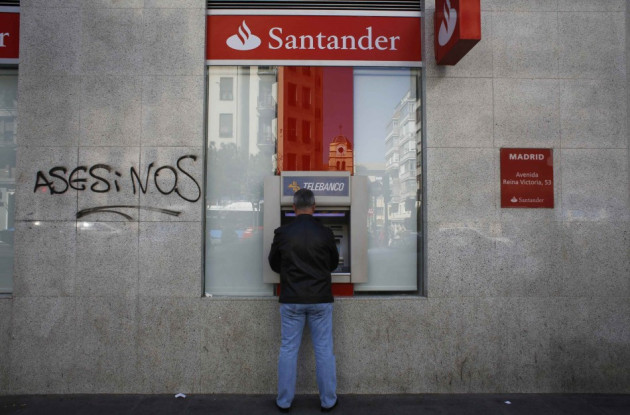 Spain's Santander bank has reported a 26 percent decline in first-quarter profit on subdued results from its home market, Brazil and the UK.
The eurozone's biggest bank said its net profits for the quarter declined to €1.2bn (£1bn, $1.6bn) from €1.6bn a year earlier.
Net interest income - banks' profit margin on loans - declined 14.3 percent to €6.7bn, as net customer loans declined 2.8 percent to €723.8bn and deposits increased 1.6 percent to €653.2bn.
The portion of bad loans rose to 4.76 percent of total loans at the end of the quarter from 4.54 percent in December, according to Santander. Net loan-loss provisions fell by 6.4 percent to €2.92bn.
Nevertheless, net profit almost tripled from the fourth quarter of 2012, when the company reported €423m profit.
The bank attributed the year-on-year decline in profit to macroeconomic slowdown, low interest rates, high provisions and preference for capital and liquidity.
By region, net profit from Latin America, which accounts for about 50 percent of the bank's total profit, fell 18.2 percent due to the sale of a subsidiary in Colombia and higher minority interests in Mexico, as well as lower interest rates in Brazil and inflation in Chile.
British net profit was down by 23 percent as higher funding costs more than offset a 6.4 percent increase in net interest income. The US net profit fell 2.4 percent due to business development costs.
Profits were down 27.1 percent in recession-hit continental Europe.
Santander noted that the first-quarter profit marks a "return to normality". The bank expects improved results for the rest of the year and projects significantly higher profit for 2013.
"Profit in 2013 will be significantly higher than the €2.295bn registered in 2012. This comes after four years in which we set aside €60bn for bad loans, added €20bn to our capital and strengthened deposits by €22bn," Santander Chairman Emilio Botín said in a statement.
Earlier this week, CEO Alfredo Saenz said that Santander is set to see a "new cycle" of profitability providing at least three years of strong earnings growth for the bank after it completes the sale of troubled real estate assets in Spain.