A Spanish gunship has been ordered to leave UK waters off Gibraltar for the second time in nine days in the face of escalating tensions over the sovereignty of the Rock.
The Royal Navy was forced to expel the Infanta Cristina from the area after the illegal incursion into British territory on Thursday (13 April).
The Gibraltar government says the very same vessel carried out a similar entry at lunchtime on 4 April.
The incursions come as a political debate about the future of the Rock has engulfed the UK, Spain and the EU.
After the UK triggered Article 50 to leave the bloc, draft EU Council negotiation guidelines proposed giving Spain a veto over trade relations in The Rock's future relationship with the EU.
This enraged UK politicians, including Lord Howard, who caused controversy when he likened the dispute to the 1982 war over the Falklands Islands.
A UK government spokesperson told Sky News: "The Royal Navy challenges all unlawful maritime incursions into British Gibraltar Territorial Waters - and did so again on this occasion."
While a tweet by the government of Gibraltar read: "Another Illegal incursion into British Gibraltar Territorial Waters by Spanish Navy ship Infanta Cristina today."
Spain has long disputed British sovereignty over the land, which has been held by the UK since 1713 and currently has the status of a British overseas territory.
But Gibraltar residents voted overwhelmingly to stay inside the EU whilst the rest of the UK chose to leave.
The citizens of the rocky 2.6 square mile enclave at the tip of the Iberian peninsula overwhelmingly rejected a plan for shared sovereignty in a referendum held in 2002, with 98.97% voting against the plans.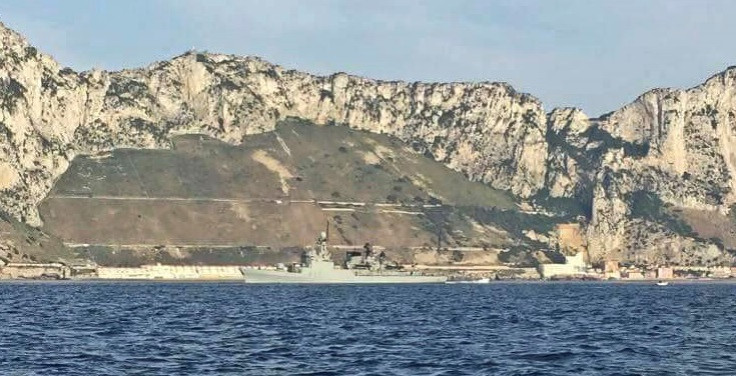 After the 4 April Infanta Cristina incident, a spokesman for Spain's foreign ministry denied any incursion, saying the ship was actually in Spain's own territorial waters.
In the wake of the EU draft, Gibraltar's chief minister, Fabian Picardo, urged the guidelines to be removed, saying Gibraltarians would not "tolerate being a bargaining chip or a victim" for Brexit negotiations.
Both UK Prime Minister Theresa May and Foreign Secretary Boris Johnson have reassured Gibraltarians that the territory will remain part of the UK after London leaves the bloc.