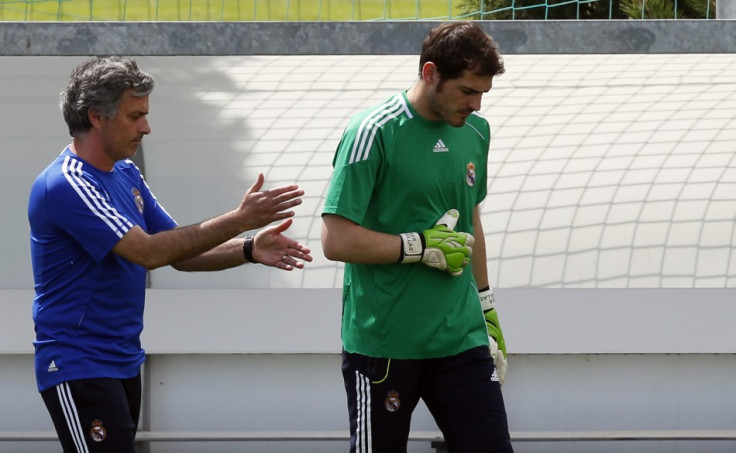 Spain's football journalists have reopened their feud with Jose Mourinho after the Chelsea boss questioned the salary Real Madrid legend Iker Casillas will receive at Porto.
The Portuguese boss ended his three seasons in La Liga on a sour note with a number of players, including Casillas, as well as a number of reporters.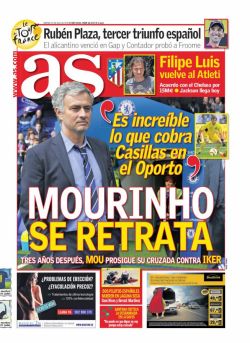 Many in Spain believe Mourinho is the one to blame for Casillas's recent departure from Real Madrid as the Spanish keeper failed to regain his best form after the Portuguese manager benched him during his last season at Real.
And AS and Marca have now seized the opportunity to attack the Chelsea boss after he questioned Casillas's new salary at Porto in an interview with The Guardian.
"I think the market is inflated. I only have to look at what is happening in my own country. [Portugal] is a country in trouble generally – socially, politically, economically. It's a country in trouble, people are suffering a lot, there have been a lot of cuts, old people have trouble with their pensions, tax is higher, salaries, jobs, everything. This season Porto pay €20m for Imbula, they give Casillas an amazing salary, Sporting are paying millions for coaches and players. Football breaks every situation," Mourinho said to the broadsheet.
Both Spanish newspapers, whose readers are mainly Real Madrid fans, dedicated their front covers on 21 July to the Chelsea boss's comments on Casillas, rather than to potential new signings at the Bernabeu.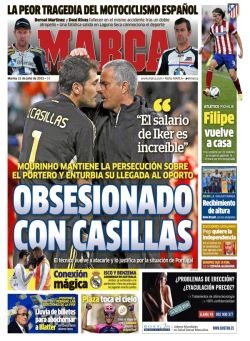 AS's front cover reads: "Mourinho has a pop at Casillas. Three years after leaving the club, he continues his crusade against the keeper."
Meanwhile, Alfredo Relaño, the newspaper's editor, added in his daily column: "There must be something missing in Mourinho's life if he is so obsessed about what Porto should or shouldn't pay Casillas. Maybe he feels offended because Porto is the club where he launched his own career as a coach.
"You would think that the meteoric rise he enjoyed since then would liberate him from such a mean and stingy way of looking back at the past; in which others, less fortunate than him, who have not had the opportunity to move on, suffer. But no. Mourinho has travelled the world but in some ways, he hasn't advanced. And now that he sees Casillas being warmly and enthusiastically received at Porto, he appears to be suffering from some sort of retrospective delusion."
Marca piled on: "Obsessed with Casillas. Mourinho continues his pursuit against Casillas and tries to spoil his move to Porto. The boss makes a new attack to the keeper and justified it with the Portuguese economic situation."