All is not lost. Liverpool's start to the season has been a wretched one plagued with injuries, inconsistency and impotence. Heady predictions made in the throes of summer have given way to suspicion, accusation and rumour as both manager and squad come in for severe scrutiny.
Mistakes have been regrettably plentiful – be it team selection, tactics or, costliest of all, transfers. The old adage says a manager lives and dies by his signings. A dated maxim, Brendan Rodgers would rightfully argue blame need apportioning to the club's mystical transfer committee as much as himself.
And to be fair, not all incomings have flopped. Adam Lallana has shown glimpses of quality but fallen foul due to squad rotation. Alberto Moreno will one day graduate to a flying full-back, drawing big money interest from his Spanish homeland. Emre Can has the physique and running power so sought after in the Premier League only to see progress blocked by a seemingly immovable captain. Even Rickie Lambert – despite occasionally resembling a pub player - has been oddly effective in recent weeks.
The aforementioned will improve in time, as will those bought for the future. To judge the likes of Lazar Markovic and Javier Manquillo at this tentative stage is unfair.
Liverpool's big problem, however, is they can ill afford to wait. In selling their shining light Luis Suarez, and replacing him with potential the Reds were always adopting a high risk strategy. The loss of Daniel Sturridge has rendered that gamble a failure and now their season is in need of drastic surgery.
Understandably then, the focus now shifts to the upcoming January window. A much maligned concept, chairman lament a market lacking in value - one designed purely for Jim White and rowdy youngsters gathered en masse outside their local ground. Indeed Liverpool have been badly burnt before – Andy Carroll's £35m acquisition a senseless panic buy hindering future business.
Nevertheless, if the owners are serious about rescuing this floundering season, they need to arrest the stagnation with money. As noted in my previous article, they have plenty to hand.
Indeed it is worth remembering that Rodgers was promised the Suarez bounty in addition to last summer's budget. Yet with outgoings accounted for, net spend stood at just £37m – petty change to a Champions League outfit.
Last night's elimination from the same competition was painful but a lengthy exile would compound that misery further still. That real threat necessitates a response next month. Below are three players Boston and their experts should identify as would-be saviours.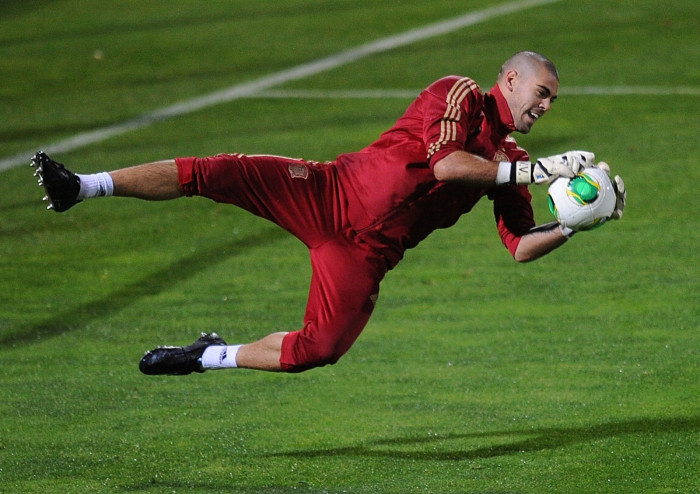 Victor Valdes
Liverpool's defensive woes are clearly structural given the ever-presence of the same players throughout Rodgers reign. That said, those directing ire at Dejan Lovren and co should consider the paralysing uncertainty that stems from their goalkeeper.
Simon Mignolet is a fine shot stopper but otherwise limited. His kicking is atrocious, his command of the box non-existent and his communication skills lost in translation. How can a defence asked to play a high line confidently do so when their keeper refuses to leave his?
Mignolet's signing was a strange one from the off, given these failings and his general unsuitability for the Rodgers ethos. In hindsight his arrival may simply have been to eradicate Pepe Reina's wage.
Whatever the politics, a replacement is needed, as is worthy back-up. Victor Vales remains available on a free transfer, Liverpool's indifference convincing him to train with Manchester United. With no contract signed they must surely attempt to smuggle him down the M62 at the earliest opportunity.
A proven stopper accustomed to a glaring spotlight, Valdes can provide short-term relief at the very least.
The Spanish international is on the comeback trail following a serious knee injury. Some would say his medical record represents a risk, but with no transfer fee involved it is surely one worth taking. In persisting with Mignolet, Rodgers is merely delaying the inevitable.
Morgan Schneiderlin
When Liverpool raided St Mary's last summer the running joke was they could soon earn a discount through loyalty points. It may be time to cash those in.
In pick-pocketing the Saints in the last transfer window, we missed their most valuable asset in Morgan Schneiderlin. The French international has perfected the holding role so troublesome for Steven Gerrard. Indeed Lucas Leiva - a man deemed surplus to requirements in June - has recently been brought in from the cold in a bid to sure up the base of Liverpool's diamond.
The Reds are all too permeable in the middle third and crave solidity coupled with class. Schneiderlin has both attributes in abundance and is more than capable of weighing in further up-field.
Spurs tried and failed to lure the DM away from the South Coast and Southampton's resolve is only likely to have strengthened in the interim. That said, this is a clear problem position and the Reds would be foolish to not at least test the water – be it now or next summer.
Ezequiel Lavezzi
When Luis Suarez left Anfield he took with him goals, assists, work-rate and an invaluable fear factor. Love him or loathe him, the Uruguayan's genius is undeniable. His mere presence terrified defenders suddenly scared to press yet foolish to drop off. His sheer nuisance was best demonstrated at Stoke's Britannia Stadium last season.
An aimless ball up-field should have been comfortably dealt with by Ryan Shawcross and Asmir Begovic. Instead the spectre of Suarez in their vicinity caused panic and an uncharacteristic mishap. Suarez nipped in to find an open net.
Liverpool crave that priceless X-factor. Ezequiel Lavezzi is hardly a goal getter but he works tirelessly for the team and never gives defenders a second's rest. His ability to press would compliment Liverpool's style while that Argentine sparkle could ignite the dullest of games.
At 29 he would be a short-term option but a player capable of filling any of the forward positions. A poor man's Suarez? Perhaps, but unless you upgrade to Lionel Messi or Cristiano Ronaldo you are likely to be disappointed when you look to replace Liverpool's former number 7.
Lavezzi is a fighter with quality, traits certain to liven up a powder puff attack. A turn of pace would also be appreciated and allow us to dust-off a rewarding counter-attack.
The aforementioned players, in my opinion at least, should head up any January shortlist. Liverpool's big mistake this summer was forgetting their newfound Champions League status. In doing so they continued with a seemingly flawed policy of buying potential.
A reintroduction to the elite should have coincided with the recruitment of proven quality. Do not proclaim to be a big fish if you are unprepared to do big business. Put another way, act like the big club you claim to be. The New Year brings an opportune moment to correct such failings. Buy for the here and now - or rue it in the future.
Aaron Cutler writes for the hugely popular Liverpool fan site This is Anfield, and is also a feature writer for Country Music People Magazine.
You can follow him on Twitter @aaron_cutler, and find out more about This is Anfield via either their website or Twitter feed.