First there was Posh, Sporty, Baby, Ginger and Scary Spice but with Mel B absent, the new addition to the band was unveiled: Introducing Eva Longoria as 'Latina Spice.'
The Desperate Housewives star couldn't wait to get in on the act as she joined four of the original bandmates in Marrakech to celebrate David Beckham's 40th birthday.
With Mel B missing from the festivities, Longoria stepped in to take her place in the girl band line-up for a photo. Tweeting a picture of the all new Spice Girls she joked: "'I'm the new Spice Girl! #LatinaSpice."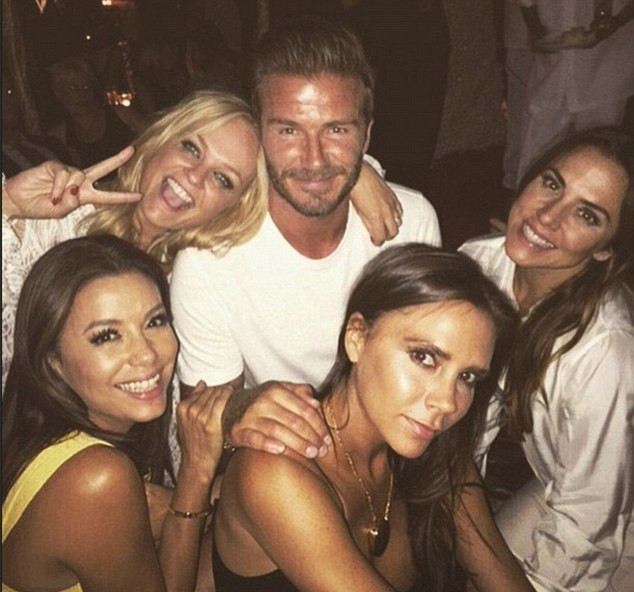 Wearing a summery yellow dress, the actress held Victoria's hand as she posed with her new 'bandmates.' Dressed in coordinated white outfits, Geri, Emma and Mel C hugged each other, and even Victoria managed to crack a smile.
Later, they took a moment to pose with the birthday boy himself.
While Longoria isn't actually about to have change of career, it seems the Spice Girls claim that 'Friendship never ends,' no longer rings true, with Posh and Scary reportedly sharing a frosty relationship these days, which might explain her absence from the lavish birthday celebrations. After the Spice Girls split, Victoria moved on to forge friendships with the LA set, including Tom Cruise.
She also became close friends with Longoria, who shares an affectionate bond with David and Victoria's eldest child, Brooklyn.
In fact, she couldnt help posting some pictures of herself and Brooklyn at the Morrocan party. She even put on a mock display of annoyance on realising that he had acquired more social media followers than she has.
The 16-year-old has 2 million followers on his Instagram page while Longoria has 1 million.
The gorgeous brunette shared a photo of herself with her young pal as she said: 'How did this happen? @brooklynbeckham not only beat me to 1M, he now has 2M?? #DB40.'
Brooklyn also shared a picture of him and Eva together on his Instagram in the evening. Posting the pic, the teen wrote: "Moroccan night with @evalongoria #DB40."
On May 2, Brooklyn paid tribute to his father via his Instagram account by sharing a snap in which they sit side by side. "Happy birthday dad. #DB40," reads the accompanying message.
Posting a photo himself on Instagram with a table full of presents in front of him, the birthday boy was enjoying being the centre of attention. He wrote: "I feel very spoilt this morning!"
He had earlier joined the social media site posting a picture of himself lying in bed, and attracted 1.6 million followers in a matter of hours.
A caption read: "Good morning and hello! It's great to finally be on Instagram, been a long time coming but I can't wait to start sharing all my special moments with you.
"Thank you for all your birthday messages so far. Looking forward to a great day with friends and family."
The football star was of course sharing his birthday with the new Princess, who was born at 8.43am on 2 May.
Writing on Facebook he sent a message of congratulations to William and Kate saying: "Incredible news. I couldn't be happier for William and Kate. Happy to hear that mother and daughter are fine. It's not a bad day to be born."