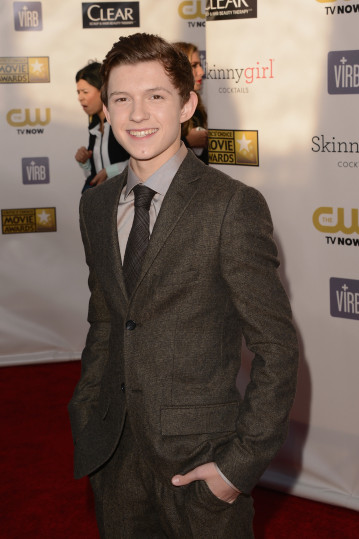 After their worldwide casting search, Marvel and Sony Studios have finally found their new Spider-Man as they confirm Tom Holland will play everyone's favourite web-slinger in his return to the big screen.
The announcement has been a long time coming, several names rumoured to have had a chance of filling the role including Ender's Game star Asa Butterfield, Nat Wolff and Liam James. But it was The Possible star Holland who finally won the studio heads over.
The 19-year-old has previously worked on films including Oscar-nominated The Impossible alongside Ewan McGregor and Naomi Watts and has just completed production on upcoming drama In The Heart Of The Sea, based on the novel Moby Dick, starring Chris Hemsworth.
Holland will be the second British actor to bring Peter Parker to life, after Andrew Garfield's portrayal in 2012's The Amazing Spider-Man and its follow-up.
But it is not just the lead role that Marvel and Sony have confirmed, though, as simultaneously in their announcement, they revealed that relatively unknown director Jon Watts (Clown, Cop Car) will be helming the next Spidey adventure.
Sony Pictures Motion Pictures Group chairman Tom Rothman had this to say about the latest revelation: "It's a big day here at Sony. Kevin, Amy and their teams have done an incredible job. The Marvel process is very thorough, and that's why their results are so outstanding. I'm confident Spider-Man will be no exception.
"I've worked with a number of up-and-coming directors who have gone on to be superstars and believe that Jon is just such an outstanding talent. For Spidey himself, we saw many terrific young actors, but Tom's screen tests were special. All in all, we are off to a roaring start."
Kevin Feige, the Marvel movie-producing veteran who has worked on titles such as Guardians Of The Galaxy and Avengers: Age Of Ultron for the company, is returning to work on the currently untitled reboot and is particularly excited about director Watts coming on board.
"As with James Gunn, Joss Whedon, and the Russo brothers, we love finding new and exciting voices to bring these characters to life," he told Marvel.com. "We spent a lot of time with Jon and find his take and work inspiring."
Meanwhile, fellow producer Amy Pascal claims they have found "the perfect actor" for the lead in Holland.
"Sony, Marvel, Kevin and I all knew that for Peter Parker, we had to find a vibrant, talented young actor capable of embodying one of the most well-known characters in the world," she explained to the website. "With Tom, we've found the perfect actor to bring Spider-Man's story into the Marvel Cinematic Universe."
Spider-Man's first solo movie starring Holland will reach cinemas sometime in 2017, but first the actor will be seen in the role in the next film in the Avengers franchise, Captain America: Civil War, in 2016. The movie is set to feature all of the Avengers team in some capacity, including Cap, Black Widow, Hawkeye, Scarlet Witch, Hulk and Iron Man.