A British charity has come up with a novel trick to protect young Britons from the dangers of forced marriages in foreign countries.
The Karma Nirvana charity is advising teenagers about to be flown abroad and married off to hide spoons in their underwear before they leave for the airport.
The spoon will set off the airport's metal detector, alerting security and giving the potential victim one last chance to reveal their arranged marriage to the authorities.
Natasha Rattu, Karma Nirvana's operations manager, said: "If [girls and women] don't know exactly when it may happen or if it's going to happen, we advise them to put a spoon in their underwear.
"When they go through security, it will highlight this object in a private area and, if 16 or over, they will be taken to a safe space where they have that one last opportunity to disclose they're being forced to marry.
"We've had people ring and [tell us] that it's helped them and got them out of a dangerous situation".
Karma Nirvana is also helping airport authorities spot the telltale signs of an arranged marriage, such as a one-way ticket for a child and tension between a teenager and their parents.
"These are quite general points, but there are things that if you look collectively lead you to believe something more sinister is going on," said Rattu.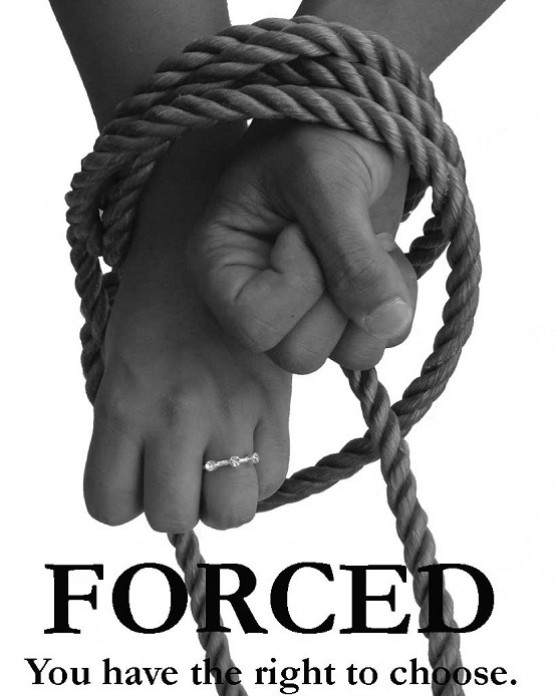 Government records suggest that incidences of arranged marriage peak during the school holidays, and potential victims are typically aged 15 or 16.
Karma Nirvana, based in Derby, said it receives about 6,500 calls a year about arranged marriages. In 2012, the Foreign Office handled 1,500 cases - 18% involving men.
The oldest victim dealt with by the Foreign Office was 71 while the youngest was just two.
The victims are mostly taken to South Asian countries such as Pakistan, Bangladesh, India and Afghanistan. Other countries include Somalia, Turkey and Iraq.