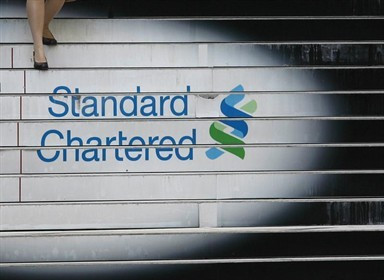 Standard Chartered's operating profits were hit in the first quarter as margins tightened amid higher operating expenses and loan impairments.
Britain's second-largest bank by market value has not disclosed specific figures for the quarter in its interim management statement, but did note that the group's revenue for the quarter increased year-on-year, driven by higher consumer banking income that was offset by a "mid single digit" decrease in wholesale operations.
Group expenses were up by a low single-digit percentage, with staff costs increasing by a high single-digit percentage. The bank hired an additional 560 employees in the quarter.
"The group delivered income slightly ahead of the first quarter of 2012 with good growth in client volumes offset in part by continued tightening of margins and spreads as well as a fall in Own Account income, as indicated at the time of the full year results," Standard Chartered said in a statement.
The bank recorded double-digit income growth in Hong Kong and Africa, but its performance was weak in Korea and Singapore.
First quarter loan impairment rose year-on-year due to an increase in the consumer banking division, which reported a mid single-digit percentage decline in operating income.
Wholesale banking operating profit declined by a mid single-digit percentage due to intensified pressure on margins and spreads.
"We have started the second quarter well with April income back at trend levels. We continue to exercise a firm grip on costs and whilst we still face external challenges, particularly with respect to Korea, we remain comfortable with consensus for profit before tax for the year," Standard Chartered said.
The London-based bank is generating most of its business from Asia. It targets at least a 10% increase in revenue, while keeping the rise in costs at the same pace.
In 2012, the bank reached a $667m (£430m, €510m) settlement with US regulators on violation of the country's sanctions with Iran.
Standard Chartered is slated to hold its annual shareholder meeting in London, later in the day. In the meeting, the bank's biggest shareholder Temasek is expected to voice its disagreement over the bank's corporate governance.
In 2012, Temasek abstained from the re-election of some of the bank's directors.