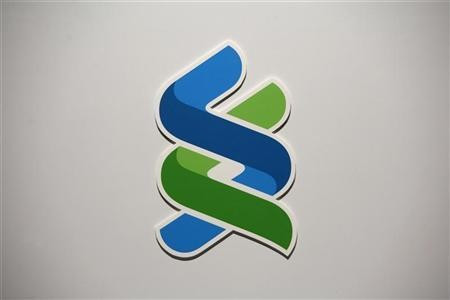 Shares in Standard Chartered were up on the FTSE 100 in morning trading after the banking group reported a rise in pre-tax profit in the full year ended 31 December 2010.
Pre-tax profit rose 19 per cent in the period to $6.1 billion, while operating income climbed six per cent to $16.1 billion. Impairment provisions were "reduced significantly" in the period, the company said.
The group said that it had raised loans and advances to customers 22 per cent to $246 billion, while the company's total assets increased 18 per cent to $517 billion.
The total dividend recommended by the company is 69.15 cents per share.
John Peace, Chairman of Standard Chartered, said, "2010 was another year of great performance. We have demonstrated we have the right strategy, the right culture and the right geographical footprint to deliver consistent and sustained value for our shareholders."
Richard Hunter, Head of UK Equities at Hargreaves Lansdown Stockbrokers, commented, "Bookending the Barclays results and bringing the season to a close, Standard Chartered has delivered another year of record profits.
"The spectre of regulation remains a constant threat, although not confined just to Standard. In addition, its further aggressive Asian expansion comes at a cost in terms of new staff, whilst any slowdown in the region would have a negative impact. In addition, management guidance was generally cautious on the global economic outlook. Nonetheless, the significant decrease in bad loan provisions echoes a theme of the season, whilst the rises in consumer banking operating profit as well as the wholesale division were material. The company has a robust balance sheet and has already seen a promising start to the new financial year.
"The share price performance has been mixed on Asian inflation concerns - over the last six months the shares are down 8% versus a FTSE100 gain of 11%, whereas over the last year Standard has slightly outperformed (up 10% versus up 8%). The general market consensus of the shares as a strong hold may come under upward pressure following the numbers."
By 09:40 shares in Standard Chartered were up 2.75 per cent on the FTSE 100 to 1,662.50 pence per share.