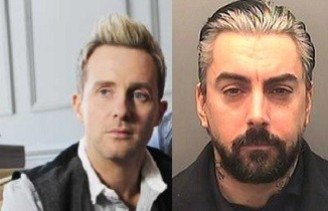 Steps star H, whose real name is Ian Watkins, has become the target of online abuse after being mistaken for Lostprophets paedophile Ian Watkins.
The 90s pop star has been bombarded with abusive messages from angry Twitter and Facebook users after his namesake pleaded guilty to 11 of 24 sex offences, including conspiracy to rape an infant.
The abuse get worse when global entertainment website E! Online posted a picture of the Tragedy hitmaker alongside an article on the disgraced Watkins.
One user wrote: "Dirty vile scum need to be shot after what you did to them kids".
Another said: "I'm not buying steps album ever again. Vile"
In statement to fans, Steps's Watkins attempted to clear his name and distance himself from the shamed Welsh rocker, who had previously denied the allegations. He also pleaded with users to stop leaving abuse on his page.
"Just to clear out some of the abuse there has been the past few hours... This is the 'Official Ian H Watkins' website. Better known as H from Steps," he wrote.
"H is in no way related with the news about the singer from Lostprophets. Please don't post any comments about the news here because they will be deleted. Thank you."
The convicted Watkins was said in court to have used his celebrity status to abuse children as young as 11 months old.
The 36-year-old star from Pontypridd and his two female accomplices will be sentenced on 18 December.
READ:
Lostprophets' Ian Watkins 'May Have Hundreds of Child Sex Victims'
Police 'Knew Lostprophets Singer Ian Watkins was a Paedophile in 2008'
Lostprophets' Ian Watkins: From Rock Hero to Paedophile Monster