Steve Bannon described all mosques as "factories of hate" in an email exchange with alt-right journalist Milo Yiannopoulos, according to leaks seen by BuzzFeed News.
Trump's former chief adviser sent the message last summer when he was planning a press conference with Yiannopoulos outside the mosque of Orlando shooter Omar Mateen, BuzzFeed reported.
When confirming that the press conference would be held outside the Florida mosque, Bannon wrote: "Brilliant, btw they are ALL 'factories of hate.'"
The email was among a number of internal Breitbart documents published by BuzzFeed that revealed how Bannon, Yiannopoulos and other alt-right heavyweights planned to thrust the values of neo-Nazis and white supremacists into the mainstream.
Yiannopoulos sought support from white supremacist groups in his bid to increase Breitbart's exposure, the documents revealed.
Joseph Bernstein, who carried out the BuzzFeed investigation, said that the documents showed that "Breitbart does more than tolerate the most hate-filled, racist voices of the alt-right.
"It thrives on them, fueling and being fueled by some of the most toxic beliefs on the political spectrum – and clearing the way for them to enter the American mainstream."
In 2016, the Breitbart boss turned Yiannopoulos into Breitbart's rising star and a poster boy for the alt-right at the exact time Donald Trump was running for office.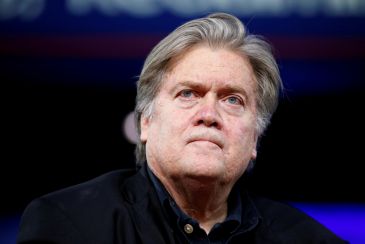 Bannon's behind-the-scenes influence was clear throughout the presidential campaign, as Trump's rhetoric adopted the anti-immigrant, anti-Muslim and anti-establishment tone of Breitbart News in his bid to win over far-right voters.
But Trump eventually grew weary of Bannon and ousted him from the administration on 18 August, six days after white supremacists violently clashed with anti-fascism protesters in Charlottesville, Virginia.
Since leaving the White House, Bannon has returned to his former role as executive chairman of Breitbart News and gone on the offensive, targeting remaining members of Trump's administration.
One Breitbart article targeted the administration's foreign policy and the president's national security adviser, H.R. McMaster, who Bannon reportedly clashed with.