Following his firing on 18 August, Donald Trump's former chief strategist Steve Bannon returned to his position as head of alt-right, ultra-conservative publication Breitbart, declaring "war" on those who oppose the Trump agenda.
Speaking to The Weekly Standard, Bannon said: "I've got my hands back on my weapons, it's Bannon the Barbarian. I am definitely going to crush the opposition. There's no doubt... The Trump presidency that we fought for, and won, is over.
"We still have a huge movement, and we will make something of this Trump presidency. But that presidency is over. It'll be something else. And there'll be all kinds of fights, and there'll be good days and bad days, but that presidency is over.
"In many ways I think I can be more effective fighting from the outside for the agenda President Trump ran on," he continued. "And anyone who stands in our way, we will go to war with."
This could well put Breitbart on the warpath with the likes of Donald Trump's son-in-law and adviser Jared Kushner, who reportedly clashed repeatedly with Bannon.
His words of intent were echoed by various sources close to the publication. "It's now a Democrat White House," one such source told Gabriel Sherman of Vanity Fair. Another source told him that Bannon is "gearing up for 'war' against Rupert Murdoch".
On Thursday, Rupert Murdoch's son James criticised Trump, writing in an email sent to The New York Times: "I can't even believe I have to write this: standing up to Nazis is essential; there are no good Nazis. Or Klansmen, or terrorists. Democrats, Republicans, and others must all agree on this, and it compromises nothing for them to do so."
Bannon, who has been accused of voicing white supremacist views, something he denies, is the latest high-profile departure from the White House, following National Security Adviser Michael Flynn, chief of staff Reince Priebus, and press secretary Sean Spicer.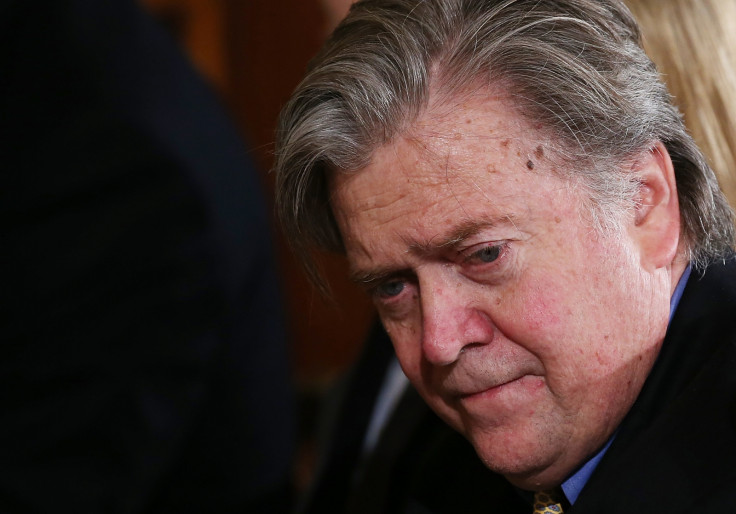 There had been increased pressure on Trump to sack Bannon following violence at a rally in Charlottesville, Virginia, where neo-Nazis and white supremacists marched and a counter demonstration ended in tragedy when an anti-fascist protester was mowed down and killed.
Donald Trump was criticised for his response to the events in Charlottesville after initially failing to denounce white supremacists and neo-nazis. He came out against the groups two days after the protests, but last week defended the protesters in a spectacular press conference at Trump Tower
Bannon told The Weekly Standard that he had intended to resign on 14 August, but the announcement was delayed following the violence in Charlottesville. The White House's only statement on Bannon's departure came from spokeswoman Sarah Huckabee Sanders, who said: "We are grateful for his service and wish him the best."