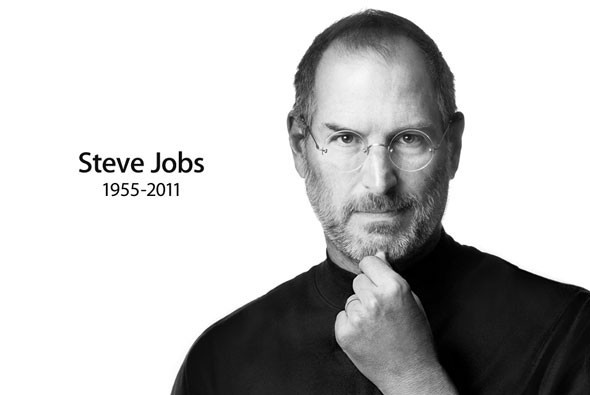 Steve Jobs' death at the age of 56 brings to an end one of the most pioneering lives in technological history. The middle class, college drop-out hippie has singlehandedly revolutionized the way we live with his brilliant innovations like the mac computer, the iPhones and iPads. He created the consumer giant we now know as Apple Inc. in a garage.
Jobs was an extraordinary man who made the computer personal and the smartphones fun. If it was Bill Gates who succeeded in putting up a computer in every office desk, it was Jobs who personalized it by getting it into the dorm rooms and bedrooms across the world. His death comes just a day after Tim Cook presented the new iPhone 4S at a gala event yesterday which was synonymous with Steve Jobs.
Microsoft Corp co-founder and chairman Bill Gates in an emailed statement said, "For those of us lucky enough to get to work with him, it's been an insanely great honor." "I will miss Steve immensely." "Insanely Great " had been one of Jobs' favorite expressions.
Jobs passed away on Oct. 5, 2011, after a long-standing battle with pancreatic cancer. With a very low survival rate of 4 per cent, pancreatic cancer is the fourth most common cause of cancer deaths across the world. Jobs' tumor was successfully removed in 2004 but the malignancy had apparently spread beyond the pancreas. In 2009, Jobs had a liver transplant.
He resigned as the CEO of Apple Inc. in August.
"I have always said if there ever came a day when I could no longer meet my duties and expectations as Apple's CEO, I would be the first to let you know," Jobs wrote in a letter to the board of directors Aug. 24. "Unfortunately, that day has come."
Jobs is also by default the most famous Arab in the world. His biological father is a man named Abdulfattah Jandali, a Syrian, who was a political science graduate student when he met Jobs' biological mother, an American named Joanne Schieble.
Jobs was later adopted and raised in San Francisco by Paul and Clara Jobs.
Apparently, Jobs himself knew nothing about his biological parents until he was 27, so it's doubtful that his part-Syrian heritage meant anything to him. Jandali, a Syrian-American Muslim had earlier expressed his regret for giving his son up for adoption.
On being asked about his estranged son's death, he said "I really don't have anything to say." "I know" the news.
At the now famous Stanford University Commencement in 2005, Jobs said "No one wants to die. Even people who want to go to heaven don't want to die to get there. And yet death is the destination we all share."
" Your time is limited, so don't waste it living someone else's life. Don't be trapped by dogma — which is living with the results of other people's thinking. Don't let the noise of others' opinions drown out your own inner voice. And most important, have the courage to follow your heart and intuition. They somehow already know what you truly want to become. Everything else is secondary."
He built a multi-million dollar empire in his garage, was fired from his own company and came back a decade later to save it and to turn it into the world's most influential corporations. Jobs, an unparalleled revolutionary, wasn't an ordinary man by any standards.
As Microsoft co-founder and long-time rival Bill Gates puts it "The world rarely sees someone who has had the profound impact Steve has had, the effects of which will be felt for many generations to come."