Eighties stars Boy George and Gary Kemp said an emotional farewell to Steve Strange as he was laid to rest.
The pioneer of the new romantics died of a heart attack in Egypt on February 12, aged 55.
In a fitting tribute, the pop stars he inspired turned pallbearers, at the service at All Saints Church in Porthcawl, South Wales. Boy George, Steve Norman and Martin and Gary Kemp of Spandau Ballet lifted the Visage singer's casket, which was adorned with images from Visage's heyday. A marching jazz band played the track I'm The King of the Swingers, followed by an orchestral version of Visage's biggest hit Fade To Grey, as the cortege arrived at the church.
More than 300 mourners attended the service, while fans crowded the streets. In a moving service Boy George read out a poem he wrote to his friend, describing him as a "punk rocker and a fellow freak."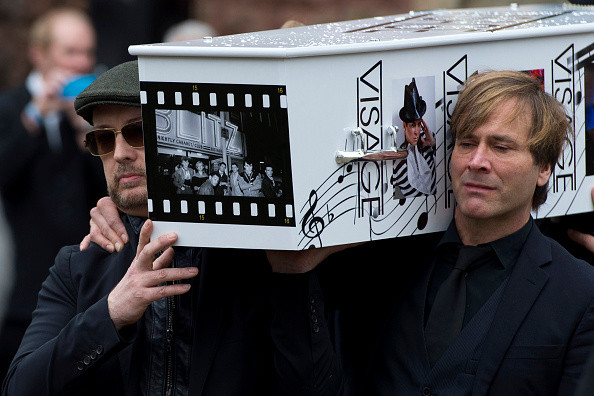 "Goodbye Steve - punk rocker, New Romantic, old romantic, first class show off, fellow freak, beautiful gay man, seminal pop star, wrecking ball, futurist fashionista," he said.
Steve Norman, the saxophonist for Spandau Ballet, also gave a eulogy, recalling how Strange took him and Martin Kemp under his wing during the 1970s.
"We did not have any money back then, and Steve would always pay for our drinks and whatever we wanted. He was a generous and caring human being with a massive heart. A lot of great stuff has been said about Steve since his passing - about how he shaped the 1980s - and it is very much deserved. I just wish a few more people had told that to him when he was around ... he was a sensitive soul who needed that affirmation from people," he said.
Following a performance of the Welsh hymn Myfanwy by the Bridgend Male Voice Choir, Visage performed at the wake, which was held at the beachfront Hi-Tide pub in Strange's hometown.as fans crowded the streets around the church.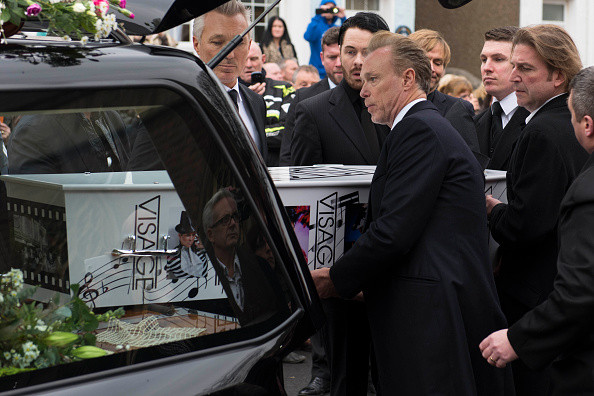 Strange's close friend Jayce Lewis and personal assistant Amanda Lloyd planned the stylish send-off for the singer.
Speaking before the service, Jayce said: "The family decided that the funeral should be a celebration of Strange's life and the funeral will be open to the public. The family thought it was important that fans of Strange from around the world should have the opportunity to be in attendance."
"Some of us will get up and perform Strange's songs. There will also be a big screen with his life playing out. The wake will again be open to the public. There will be a VIP area for the family and close friends, but fans are welcomed to attend and help celebrate Steve."
"It's going to a big undertaking, but as difficult as it's been to lose a dear friend, it's been overwhelming to see the coverage of Steve's life and how loved he was. So we want to celebrate his life and make it as fitting as we can to Steve Strange. To do that we're going to make it big, bold and beautiful."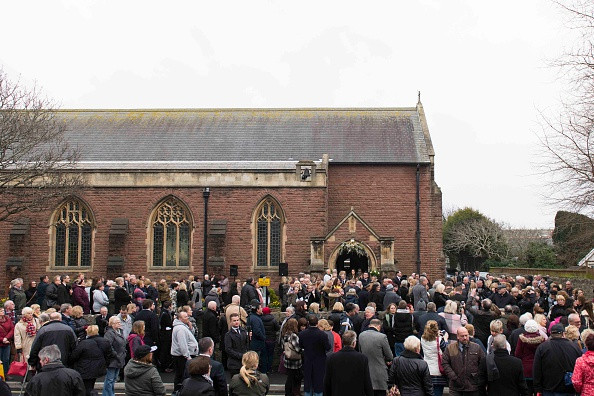 Born Steven John Harrington in Newbridge, Monmouthshire, Strange managed the Blitz Club in London's Soho, a focal point for the New Romantic movement where acts such as Duran Duran, Spandau Ballet and Boy George were launched. The club also saw David Bowie make regular appearances.
With a unique look that inspired so many others who followed, Strange was credited with creating the New Romantic style. "It was about showing your creative side, and about showing that you'd taken time and effort in what you had created. It was about classic style and being outrageous, but done with an element of taste."
The singer had battled heroin addiction after Visage's early success but had recently begun touring and recording again. His final work was the orchestral version of Fade To Grey as part of a 12 song Orchestral Album, which was released on December 8, 2014.