Apple's co-founder has hit out at the company he founded for not producing a phone which is big enough and a tablet that is just too big.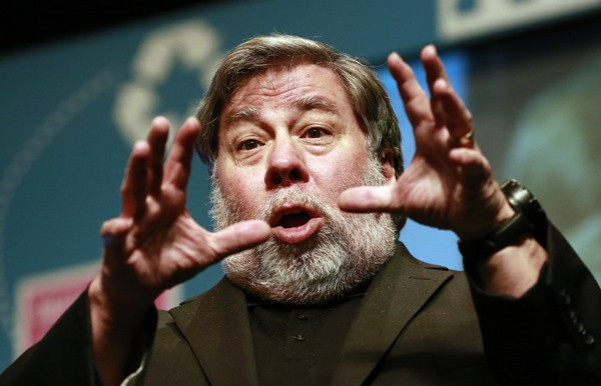 Steve Wozniak, or 'Woz' as he is fondly known by fans of the company he set up with Steve Jobs back in the late 1970s, was speaking just hours after current Apple CEO Tim Cook had unveiled what he called "the biggest step yet" for the company's tablet range.
But Woz was not convinced, saying the new iPads "didn't hit my needs." He claims the iPad mini, which has been upgraded with a Retina display and 64-bit CPU, is "just a hair too large" to fit in his pocket, unlike his Kindle ereader which he can comfortably fit into a pocket.
On the other hand, the full-sized iPad Air, which is 20% thinner and lighter than the previous model, won't do either, because Apple is still not offering it in storage sizes large enough for Woz's needs.
"I want storage"
"Yes it's thinner but I want storage. I don't have broadband at home so carry all my personal media on the iPad. So I was hoping Apple has a 256GB iPad. So I emailed my wife and said I didn't want one of those." The iPad is still only available with storage up to 128GB.
Wozniak explained that he hadn't seen the presentation from Apple yet as he had been on a plane at the time it took place, travelling to London where he was speaking on Wednesday at the Apps World conference in Earl's Court.
Wozniak's lack of a broadband connection at home came as a surprise to the large crowd of developers and fans who gathered to hear him talk, and he blamed his "lousy phone company" for being unable to connect him. He said he wasn't even able to order a film from iTunes and watch it immediately, adding that by the time it took to download he would have gotten bored of it and not watched it anyway.
iPhone too small
Wozniak also addressed the iPhone, which he says was just not big enough for his needs. He referenced Apple's major rival Samsung and its Galaxy S4 and Galaxy Note 3 smartphones as offering much bigger and better experiences on a smartphone, along with the HTC One.
"When you went into a store and saw the iPhone had the smallest screen of all, that was a little disappointing." He said larger screens were "easier to deal with" offering "more space for your fingers."
Despite his issues with the 4in screen on Apple's smartphones, Wozniak was still sporting a gold iPhone 5s on stage, admitting he carried around two phones with him at all times.
iOS 7
Wozniak was also asked about his reaction to iOS 7, Apple's radical redesign of its mobile operating system which launched last month. The technology icon said that he was initially put off by the lack of consistency around the app icon designs, but after a few weeks using the system had decided it was "beautiful" and better than iOS 6.
His favourite app is Siri while he admitted that the one app he has never used is the Stocks app which comes as standard on all iPhones.