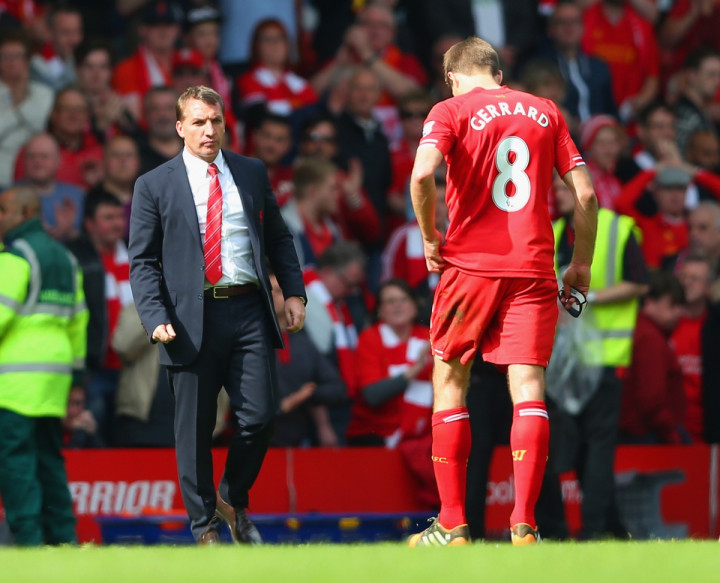 Liverpool captain Steven Gerrard has heaped praises on Reds boss Brendan Rodgers and feels that the manager is 'up there with the best' when it comes to tactical nous and man management skills.
Rodgers came to Liverpool from Swansea City in 2012 and in his second full season in-charge, he led the Reds to the brink of the title, eventually finishing just two points behind champions Manchester City.
"Tactically he is very clever. He reacts to situations, changes things for the better, see problems and adjusts things very quickly," Gerrard said, as quoted by Goal.
"In the two years I have worked with him, he is up there with the best of them and I've worked with [Rafa] Benitez, [Fabio] Capello, [Roy] Hodgson - big names.
"He can play any formation he wants to play as he knows he has the personnel and he is not scared to change formation from game to game or tinker with it as the game is going on," the Reds skipper continued.
The Anfield club have started the current Premier League season in impressive fashion despite naysayers writing them off following the departure of star forward Luis Suarez. But Gerrard has credited the Northern Irishman for holding the team together and creating the perfect atmosphere for the players to thrive in.
"He is a players' manager, a manager you want to work hard for and win for. He shows the players unbelievable respect, he treats them like his own children and creates an unbelievable atmosphere to work in," Gerrard explained.
"I have been blown away by how sharp he is in the dressing room, how quick he is to see a problem," he said.
The former England skipper is aware of how close Liverpool came to winning the title last season and is absolutely determined to win a trophy for his manager. He is confident that despite playing in the Champions League, the Reds can mount a title challenge yet again and compete with the best in the league.
"Brendan has been here for two years and I think he is desperate to get a trophy in the cabinet - that is goal number one," the Englishman added.
"It is very important we maintain our place in the Champions League but after the journey we went on last year and the confidence we gained from it I think we are genuine title contenders as we have proved we can mix it with anyone in this league," Gerrard concluded.