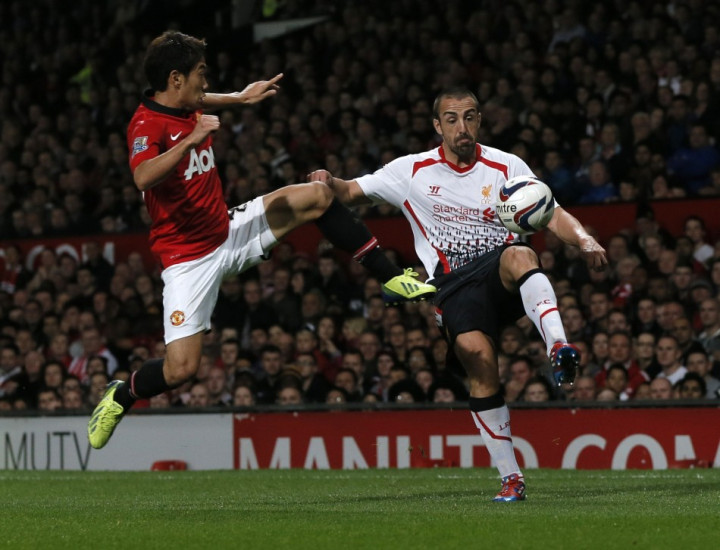 Liverpool left-back Jose Enrique has claimed that even though he wants to regain a starting role in Brendan Rodgers' line-up, he is ready to mentor new signing Alberto Moreno to smooth his adaptation to Anfield.
Enrique missed much of last season due to a long-term injury but having returned to action as a substitute during the 3-0 victory over Tottenham on Sunday, he is now looking forward to more chances in the coming games.
"We are a team. Of course I want to play - I am going to fight for my place and I want it back, like everyone else does in the team. But we are humans and I know how difficult it is when you go away from home," Enrique told Liverpool's official website.
"Moreno is a great lad as well and I've got along with him from the start. I wish him the best. It's our job and I want to play, that's the reality, but I am going to help him, like I have already, with anything he needs".
Enrique insists all the players should focus on the team target rather than personal achievements.
"We want the same thing - Liverpool to try and win the league, be in the Champions League again next year and try to win something this season. We are fighting for the same thing - we're not here to fight between each other!"
Furthermore, Enrique believes that with a number of Spanish speakers in the squad such us himself, Javier Manquillo and Suso, Moreno's adaptation to the Premier League will be even easier.
"He's settled in really well. I said to him, from the start it can be difficult for a young player - I remember my first year at Newcastle was really, really difficult for me - but he has something I didn't and that's people here who can speak Spanish.
"It's good for him to arrive and get support straight away from people who speak the same language.
"He is getting his chance and against Tottenham he had a fantastic game - and the goal was brilliant."